Opioid overdose epidemic: How emergency responders can save lives
Naloxone administration should be the standard for all emergency personnel and it should be available anywhere it will be useful
---
LAS VEGAS — Opioid overdose is a widespread problem that affects all communities and socioeconomic groups in the U.S. and has recently become a leading causes of preventable death.
Emergency responders – EMS, police, and fire – are increasingly being training to deliver intranasal naloxone (Narcan) to patients that have overdosed on opioids. Michael W. Dailey, MD, who served as the medical director for a New York State pilot project for the implementation of BLS naloxone, described the pathophysiology of opioid addiction and overdose to EMS World Expo attendees.
In the N.Y. pilot program 2,035 EMTs reversed 223 opioid overdoses with intranasal naloxone. The program, which included provider training, pre- and post-test exams, and naloxone, concluded successfully.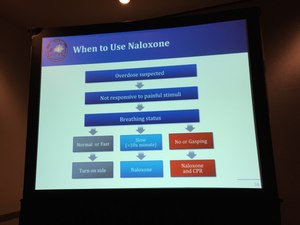 Memorable quotes
"An opioid takes care of pain and it makes you feel good. And that makes you want more."
"If someone is breathing slowly, we provide a pain stimulus and they don't wake up, give them naloxone (Narcan)."
Michael W. Dailey, MD
Key takeaways
Dailey's presentation, based on the N.Y. pilot project and other research on treatment of opioid overdoses, makes a compelling case for police, fire and EMS administration of naloxone. Here are key takeaways from his presentation:
Normal, everyday people – not just celebrities – become addicted to narcotics. They are our children, parents, siblings, spouses, friends and coworkers.
Methadone and buprenorphine, medications used to treat opioid dependence, can reduce the risk of overdose death by as much as 80 percent.
Naloxone blocks opioids from acting on the body for 30 to 90 minutes.
Naloxone, 2 mg, should never be "slammed" intravenously. Instead it should be titrated or administered by the intranasal route.
Intranasal naloxone is easy to deliver, painless and eliminates the risk of a contaminated needle stick.
Needle exchange programs protect public safety personnel and the public from dirty needles.
Three products to be aware of
Evzio naloxone auto-injector
Indivior intranasal naloxone product (pending FDA approval)
Adapt intranasal naloxone product (pending FDA approval)
Dailey concluded by calling on for naloxone to be available to all emergency responders and stocked anywhere it might be useful.