Delta to begin carrying naloxone on flights
The airline will begin carrying naloxone in medical kits after a passenger was found in the bathroom unresponsive
---
By EMS1 Staff
ATLANTA — Delta Airlines officials announced that planes will be stocked with naloxone, beginning in the fall, after a passenger allegedly overdosed in the bathroom.
According to CNN, Delta flights will begin carrying naloxone in medical kits in the fall after a passenger was found unresponsive in the bathroom during a flight from Boston to Los Angeles.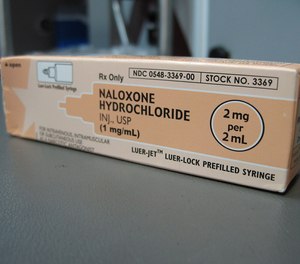 Delta has not released any details of the incident, but officials confirm there was a medical emergency onboard the flight. The Los Angeles County Department of Medical Examiner-Coroner is investigating the passenger's cause of death.
Lynne Lyman, a passenger on the flight who witnessed the scene, said flight attendants, a doctor and passengers tried to save the man. Lyman believes the passenger died from an overdose and after the flight, she took to Twitter asking Delta to "please practice harm reduction and get a Narcan Kit on every flight."
In 2018, the Association of Flight Attendants (AFA) had requested the FAA include intranasal naloxone on aircraft so flight attendants can respond to opioid overdoses. To date, United, Frontier and Alaska Airline and currently carry Narcan in case of emergencies.
"Passenger medical emergencies have and will continue to include opioid overdoses. Unfortunately, passengers may die from opioid overdoses on airplanes from the sheer lack of access to naloxone," AFA officials said.
McClatchy-Tribune News Service