New use-of-force law could add up to 500+ more medical calls for Wash. FD
Under the new law, police will no longer be the primary responders to welfare checks or psychiatric calls unless a crime has been committed
---
Sam Fletcher
Columbia Basin Herald, Moses Lake, Wash.
MOSES LAKE, Wash. — In the past two decades, call volume for the Moses Lake Fire Department has increased an average of 2.5% a year, said MLFD Chief Brett Bastian. While the Moses Lake Police Department has seen more fluctuation in that time, this year it is up by about 6.5% from where it was last year, with around 600 additional calls.
The numbers are changing fast, too. With House Bill 1310, or the use of force bill, which went into effect Sunday, police will no longer be the primary responders to welfare checks or psychiatric calls unless a crime has been committed.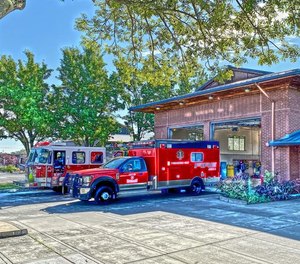 For Moses Lake, that could mean more than 500 additional calls a year for emergency medical services (EMS), said MLPD Chief Kevin Fuhr.
From population growth alone, the fire department's call volume is already a challenge, Bastian said.
"(Staffing) is always something that we look at and need to look at," he said. "We are at a situation where our concurrent call volume stretches us a little thin on a fairly regular basis."
While the police department brought on four new officers earlier this month, it will be around 10 months before they are patrolling on their own, Fuhr said.
However, the possibility of increased calls does not mean a lack of response, he said.
"We will respond to every call that we get," he said. "Some might take a little bit longer to respond to, but we will respond."
In 2016, the fire department stopped doing medical transports out of town, Bastian said. Because of this, it saw a drop in calls.
Since, however, call volume has increased steadily just with 911 calls and interfacility transfers, he said, because of normal population growth in the area.
A 2016 ambulance cost of service study provided a five-year forecast predicting 4,168 calls by the end of 2020. The actual number came out to 5,031, Bastian said.
Fire and EMS response works quite a bit differently than police, as well, he said, as police can respond with single or double-person police cars.
Calls to the fire department often take quite a bit more people and equipment, he said. A cardiac arrest, for example, takes five people, as medical staff does everything in the field they would in an emergency room.
Unfortunately, Moses Lake's call volume doesn't exist within a vacuum, Bastian said. Surrounding areas are experiencing this, too.
"All of the agencies around us have been great at providing mutual aid, but the fact of the matter is everybody is busier," he said. "It's not just us that has had an increase in call volume. The district has, AMR ( American Medical Response) has, so everybody is just a little bit on the thin side, and a lot of it has to do with area growth and just an increase to medical calls."
This year, Moses Lake fire rigs have responded to more than 1,008 calls, a 12.5% increase from this time last year. 66% of those were medical calls where a fire truck was additionally needed.
EMS calls where no fire vehicle was needed has surpassed 1,927 this year, a 12% increase from this time last year.
Adapting to change
The type of response for the additional calls through the use of force bill will completely depend on the situation, Bastian said, but it will likely be a single ambulance response.
Many of the typical welfare and psychiatric calls are simple drive-through responses to check if there is a crisis, Fuhr said.
But that doesn't mean police are completely off the hook for those calls, he said. Officers may and likely will still respond to many of the calls, they just will no longer be the primary contact because it's not a crime.
They do need to be close by in case something goes poorly, he said.
City officials are looking at several possible solutions addressing the growth in call volume across all agencies.
"We obviously need to have more in-depth conversations with our partner organizations with whom we have mutual aid and automatic aid, and that will be a part of the conversation particularly as we are growing into areas that are serviced by others," said City Manager Allison Williams. "We have to have dedicated conversations about how we are going to handle services in those areas."
Solutions
One possible solution is creating single-paramedic intervention units, Bastian said, for a simple response that doesn't require an ambulance.
Police are currently working with Grant Integrated Services to hire mental health professionals in the department who could respond to the mental health calls, not just in Moses Lake, but throughout the county, Fuhr said. While there is no set timeline yet, if this came to be, the police department would take back those calls with the mental health professional making initial contact instead of a police officer.
"This is obviously going to be a little bit of a learning curve for us," Fuhr said.
The biggest solution, of course, is increased staffing.
"We are about to go into our budget prep for 2022, and we will be asking for a number of things, and staffing is definitely on that list," Bastian said.
Moses Lake's capital facilities plan, part of the ongoing comprehensive plan set for adoption in October, reflects where the city is growing and the need for additional stations to serve those areas, Williams said. Of course, additional staffing will be needed to occupy those stations.
The city is growing on all sides of the lake, she said, which means that appropriate station placements will need to be strategized to maintain response times.
The first thing to do is address the concern in the capital facilities plan, she said. Then, it is up to the city council during the budgeting process to figure out how to make it happen.
"Overall, we're trying to deal with legislation that was passed with an implementation date that is very difficult," she said. "Typically when you have substantial changes in the way that you're servicing your population, you're given some time to phase it in, but obviously it's implemented today, actually yesterday, July 25."
Council has taken recent steps to upgrade equipment in the fire department, Williams said, which will aid in the transition.
"The pivot is a dramatic change in how we are servicing our population, and I'm just thankful, actually, that our city has a fire and ambulance service that is state-of-the-art and that we have the ability to have those conversations with our staff," she said. "I think it makes that pivot pretty doable."
___
(c)2021 the Columbia Basin Herald, Wash.
McClatchy-Tribune News Service