Memorial scheduled for NC paramedic who died in the line of duty
The mother of Davidson County Rescue Squad Paramedic Richard Montgomery reports that he died from a severe anaphylactic reaction after a bite or sting while on a call
---
By Laura French
LEXINGTON, N.C. — A memorial service has been scheduled for a North Carolina paramedic who died in the line of duty in April. 
Davidson County Rescue Squad Paramedic Richard Montgomery died while assisting with CPR on a medical call after having a severe anaphylactic reaction to a bite or sting and going into cardiac arrest, his mother said in a post on his Facebook page Wednesday.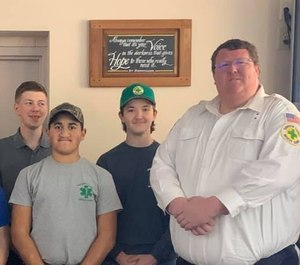 The post states that two epinephrine shots were administered before Montgomery went into cardiac arrest and EMS personnel performed CPR for an hour but were unable to revive him. The young woman who was receiving CPR during the initial medical call survived. 
The memorial service for Montgomery will be held June 27 at 1 p.m. at Mount Zion Wesleyan Memorial Church in Thomasville, North Carolina. In lieu of flowers, "cause he was not a flowers kind of guy," Montgomery's mother requested donations be made in his name to the Davidson County Rescue Squad at P.O. Box 122, Lexington, North Carolina 27293 or through Facebook. 
"He died doing what he loved and helped save a life in the process," Montgomery's mother wrote. "He lived, ate and breathed Davidson County Rescue Squad as 'Rescue 4.'"
Montgomery was an Army veteran, ran the Juniors Program at Davidson County Rescue Squad and also worked as an instructor at Davidson County Community College, according to his mother's statement and his obituary.