5 things to know about acute flaccid myelitis
Acute flaccid myelitis is a condition that affects the nervous system, specifically the spinal cord
---
Updated Oct. 17, 2018
A neurologic illness of sudden onset in children is presenting itself again in the U.S. It presents with localized limb weakness of an unknown cause. Does this sound familiar?
If you said, "Sounds like polio," then you're close.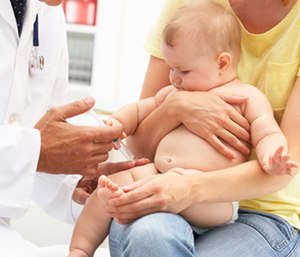 Acute flaccid myelitis is related to polio and is a rare illness that anyone can get. Here's an overview of the illness and why the CDC is concerned about AFM.
1. What is acute flaccid myelitis?
AFM affects a person's nervous system, specifically the spinal cord. It can result from a variety of causes, including viral infections. It's characterized by a sudden weakness in one or more arms or legs, along with loss of muscle tone and decreased or absent reflexes. Numbness or other physical symptoms are rare, but some patients may have pain in their arms or legs. Dysfunction of the nerves controlling the head and neck, difficulty swallowing or drooping of the eyes may accompany the limb weakness.
2. Why it's concerning
According to the CDC, 62 cases of AFM have been confirmed so far in 2018. The confirmed cases, they report, have occurred in 22 states across the United States this year.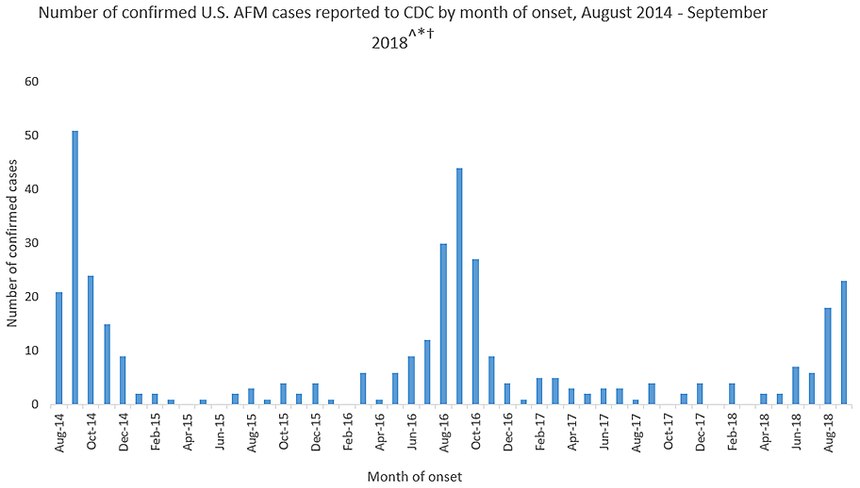 Their reports also show:
The cause of AFM is still unknown.
It's unclear what pathogen or immune response is causing the disruption of signals sent from the nervous system to the muscles.
CDC has yet to determine who's at a higher risk for developing AFM.
3. What AFM symptoms should EMS personnel look for?
The CDC is working with state and local agencies to increase awareness for AFM. They're encouraging healthcare providers and local responders to be vigilant for AFM among their patients. The patients' symptoms may be most similar to those caused by certain viruses, including:
Poliovirus.
Non-polio enteroviruses.
Adenoviruses.
West Nile virus.
Numbness or tingling is rare, but some patients have pain in their arms or legs. Some patients with AFM may be unable to pass urine. The most severe symptom is respiratory failure that results when the muscles involved with breathing become weak.
4. What's the treatment for AFM?
Unfortunately, there's no specific treatment. A doctor, specializing in brain and spinal cord illnesses, may recommend certain interventions on a case-by-case basis. If you or your child are having problems walking, standing or develop sudden weakness in an arm or leg, you should contact a doctor or call 911 immediately.
5. What are AFM prevention tips?
Being up to date on all recommended vaccinations, including poliovirus, is one way to protect yourself and your family from a disease that can cause AFM. You can protect yourself from West Nile, another known cause of AFM, by using mosquito repellent and staying indoors at dusk and dawn. Washing your hands with soap and water, avoiding contact with sick people and cleaning surfaces with disinfect can also help protect yourself and others from AFM.