Bridge to be named after NY FF-EMT who died due to COVID-19
Valley Stream Firefighter-EMT Mike Field, a past FDNY member and 9/11 responder, will be honored with a memorial bridge on Long Island
---
By Laura French
VALLEY STREAM, N.Y. — New York lawmakers have voted to name a bridge in honor of a veteran firefighter-EMT and 9/11 responder who died due to COVID-19. 
Valley Stream Firefighter-EMT Mike Field, 59, died on April 8 from the virus after having contact with a known virus patient during a medical call on March 24. His death was confirmed as a line-of-duty death by the U.S. Fire Administration.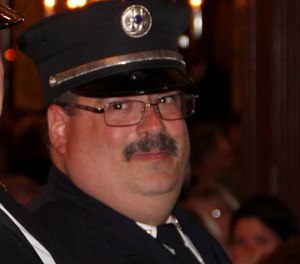 State lawmakers voted to approve the dedication of the Michael J. Field Memorial Bridge on Long Island near Valley Stream, where Field served as a firefighter and EMT for more than 30 years, according to the Long Island Herald. Field also served as an EMT at the FDNY for more than 15 years, and responded to the World Trade Center on 9/11. 
"Putting his life on the line to save a neighbor's at the peak of the pandemic, Michael Field epitomized heroism and bravery," Sen. Todd Kaminsky, who sponsored the bill, said in a statement, according to the Long Island Herald. "Future generations will drive over the Michael Field Memorial Bridge and derive inspiration from Michael's life of service and sacrifice." 
Field's wife, Stacey, told the Long Island Herald, "Mike would have been very humbled by this. He was not the kind of guy that looked for recognition. Any time when he would bring home a letter from a patient, letter of commendation or award for his service in NYC EMS or the Valley Stream Fire Department he would say it wasn't necessary because 'that's my job.'"