No indictment for Texas medic, officers in death of restrained Black transgender woman
LaDamonyon "DeeDee" Hall, 47, died in 2022 after police and EMS providers responding to a reported disturbance handcuffed and transported her
---
By Leila Merrill
EMS1
DALLAS — A Dallas County grand jury declined to indict several Dallas police officers and a paramedic Thursday in the 2022 death of LaDamonyon "DeeDee" Hall, a 47-year-old Black transgender woman, the Dallas Morning News reported.
Hall died on May 26 after police officers and EMS providers responded to a reported disturbance and handcuffed and restrained her. A nearly 40-minute video released by police 13 days after Hall's death showed officials pinning her down, putting her in handcuffs and transporting her with a spit hood over her head as she fought.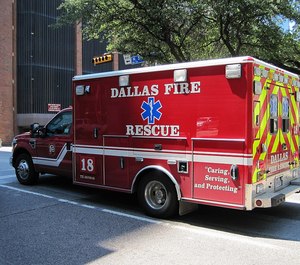 Dallas Fire-Rescue has not released the names of the two providers who responded.
An attorney for Hall's family, Justin Moore, called the grand jury's decision an "affront to justice" in a statement. He said police officers misgendered Hall, and a paramedic "callously neglected her."
Dallas Fire-Rescue declined to comment Thursday.
The EMS provider who was driving and the other who was in the back of the ambulance had their credentials suspended last year before the police department released the video. The department placed both on administrative leave.
The status of the providers' credentials and employment was not clear Thursday, the Dallas Morning News reported.