2 medics' credentials suspended after Texas patient dies in transport
A Dallas Fire-Rescue spokesperson said the paramedics were placed on administrative leave before the police department released body cam video
---
By Leila Merrill
DALLAS — Credentials have been temporarily suspended for two paramedics and an investigation is underway after a woman in police custody became unresponsive and died during an ambulance transport last month, The Dallas Morning News reported.
Last week, the Dallas Police Department released body camera footage showing LaDamonyon "DeeDee" Hall, 47, being pinned down. Dallas Fire-Rescue employees strapped her to a stretcher to transport her to Baylor Hospital.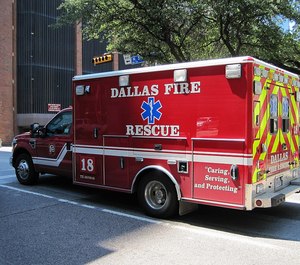 Attorney Justin Moore, who is advising Hall's family, told the Morning News that the video raises questions about whether medical treatment was delayed and whether Hall, a Black transgender woman, was subjected to anti-LGBTQ discrimination.
In the video, the responders repeatedly call Hall "sir," "he" or "him," Moore and family members said.
Moore also said that Hall had a diagnosis of bipolar schizophrenia and looked to be experiencing a mental health episode during the May 26 incident.
Hall's family members told WFAA that they want a fair investigation and that her death could have been prevented.
"Always helping people. Giving, and just loving," said Robbi Reed, the victim's cousin.
"The mistreatment that I witnessed was hard to watch. It dehumanized DeeDee," said Reed.
Jason Evans, Dallas Fire-Rescue spokesman, said the two paramedics — one who was driving and the other who was in the back of the ambulance ­— had their credentials suspended well before the police department released the video. They are on administrative leave.