Ketamine administration investigated after Fla. jail inmate's death
A Jacksonville Fire and Rescue Department EMS report shows Daniel Taylor was conscious when medics arrived to treat him after a fight with corrections officers
---
By Leila Merrill
JACKSONVILLE, Fla. — The death of a Florida man, who was fighting with corrections officers, is under investigation. Paramedics, according to WJCT news, were called to the scene to assess and treat the patient. The department's policy, including administration of the maximum dose, is being questioned.
A Jacksonville Fire and Rescue Department EMS report obtained by WJCT News showed that Daniel Taylor, 30, was conscious and aware when EMS providers arrived to treat him after a fight with 10 corrections officers on Aug. 13.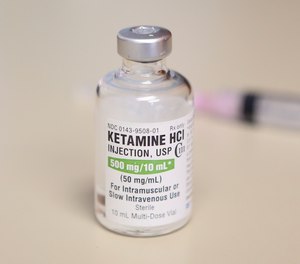 Taylor's family said that the Jacksonville Sheriff's Office told them he was too combative for a nurse to evaluate him, which was why officers called for paramedics to evaluate him.
The EMS report states that paramedics found Taylor "laying on the floor combative and unable to be restrained by corrections officers." Taylor was put in handcuffs with his hands and feet chained together as he was set on a stretcher.
Within five minutes of the maximum dosage of ketamine allowed under department rules being administered, Taylor became unresponsive.
Jail records, family comments and a witness have said that Taylor weighed about 160 pounds, and hospital records say about 176 pounds. But the in the EMS report, paramedics listed his weight as 100 kilograms, or 220 pounds. That is the minimum weight for a patient to receive the maximum dosage of ketamine under JFRD policy.
By the time he arrived at the University of Florida Health Jacksonville, Taylor was not breathing and his heart had stopped beating. Despite resuscitation efforts, he did not recover brain function.
Taylor was removed from life support a week later.
---

Learn more
Is ketamine a problem lying in wait at your agency?
5 actions EMS leaders should take to ensure ketamine is appropriately administered when indicated and documented correctly
---
Taylor was set to be released after a plea deal for a misdemeanor trespassing charge, Jacksonville.com reported. 
The Florida State Attorney's Office is continuing to investigate the incident and has not stated whether prosecutors will press charges.
---

Read next
Grand jury testimony: Ketamine, not police hold, caused Elijah McClain's death
Medical experts testified that the 500-milligram dose of ketamine administered by an Aurora Fire Rescue paramedic caused McClain's death