CDC: Monkeypox now found in all 50 states
Over 15,000 cases have been confirmed, and five pediatric cases have been reported, according to the Centers for Disease Control and Prevention
---
By Leila Merrill
ATLANTA — With the addition of a case in Wyoming, monkeypox has been detected in all 50 U.S. states, ABC reported.
More than 15,000 monkeypox (orthopoxvirus) cases have been confirmed, according to the CDC.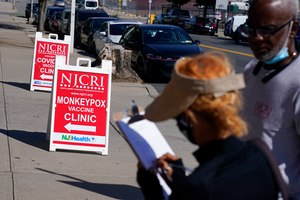 At least five pediatric cases have been reported, and at least one pregnant woman has been diagnosed with it. But most of the cases in this outbreak have been among men who have sex with men.
The most common method of transmission has been skin-to-skin contact.
The Biden administration's plan to extend supplies of the monkeypox vaccine by giving people fractional doses has hit a snag, STAT reported.  Instead of getting five doses per vial, clinics have been getting three to five, said Demetre Daskalakis, deputy coordinator for the monkeypox response for the White House.
Earlier this month, the U.S. Department of Health and Human Services declared the outbreak a public health emergency, which can help with the distribution of vaccines and treatments.
---

Read next
What EMS should know about monkeypox patient care and provider safety
With the U.S. now leading the world in monkeypox cases, providers should be aware of the symptoms and how to properly treat patients