Wash. EMS agency seeks 10-year levy renewal
In addition to an excess levy approved in 2017 and transport fees, the renewal levy would represent about a third of the department's funding
---
By Jack Heffernan
The Columbian, Vancouver, Wash.
YACOLT, Wash. — Residents within North Country Emergency Medical Services's district will decide on Aug. 6 whether to renew a 10-year levy that represents a third of the ambulance service's funding.
The agency is running two levies in August, but all the money goes to the same place. One levy taxes residents of unincorporated parts of the district, and the other taxes residents of Yacolt.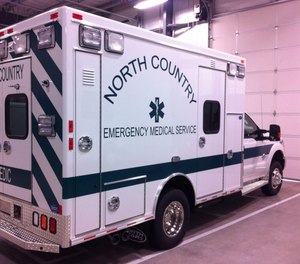 The property tax levy, most recently approved in 2009 at 50 cents per $1,000 of assessed property value, will again be on the primary election ballot at that rate. If approved, the district estimates the owner of a $300,000 home would pay $150 per year.
In addition to an excess levy approved in 2017 and transport fees, the renewal levy would represent about a third of the department's funding.
"This is our base levy," Chief Shaun Ford said. "If we don't do it, we don't exist."
Due to inflation and rising property values, the current levy has fallen in real value to 37 cents per $1,000, Ford said. Considering new values, the average Clark County property owner within the service area would pay an additional $39 per year, Ford said.
Additional revenue is necessary for rising costs of fuel, medical equipment and pay raises to maintain staffing, Ford said. The levy would add $270,000 annually to the ambulance service's budget.
"It helps us maintain and be a little bit ahead of where we were last year," Ford said.
North Country EMS covers roughly 1,000 square miles and serves 20,000 people in north and northeast Clark, southeast Cowlitz and west-central Skamania counties.
In 2017, voters renewed a three-year excess levy at a rate of $1.40 per $1,000. It's considered excess because state law only allows emergency medical service districts to collect 50 cents per $1,000 for a regular levy.
Yacolt levy
The Yacolt levy has the same length and dollar amount as the one for unincorporated residents. Ford said one of the agency's main stations is in Yacolt, while the other is at Fargher Lake. Those two provide about 90% of the call volume for North Country, Ford said.
He added that if the levy failed in Yacolt, it wouldn't completely shut down the agency, most likely.
"The town of Yacolt is relatively small, so that's not a large amount of our funds," he said. "If it did fail out there, the board would have to decide if we still provide services to the town, though."
———
©2019 The Columbian (Vancouver, Wash.)
McClatchy-Tribune News Service