FDNY calls on volunteer ambulance services to help with heat-related 911 calls
The city fire department will lean on community volunteer ambulance services to handle overflow 911 medical emergencies
---
By Shayna Jacobs, Thomas Tracy, Ellen Moynihan and John Annese
New York Daily News
NEW YORK — The weekend's heatwave is going to be too hot for the FDNY to handle alone.
The city fire department will lean on community volunteer ambulance services to handle overflow 911 medical emergencies as the mercury hits triple digits starting Friday.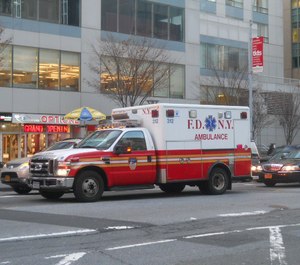 "We have a mutual aid agreement with volunteer ambulance services and they will be supplementing 911 services within their community," FDNY spokesman Myles Miller said.
The city is bracing for temperatures in the high 90s on Saturday — the hottest weather seen in New York in seven years. The heat index — the National Weather Service's calculation of how heat and humidity together affect one's comfort — should hit 105 degrees on Friday, and 110 degrees on Saturday and Sunday.
The city will open 500 cooling centers at hundreds of public buildings across the five boroughs. Swimming pools will be open an extra hour, until 8 p.m., from Friday to Sunday, and the city Department of Social Services has issued a "Code Red" — meaning outreach teams will focus on helping homeless people who don't live in shelters.
It's going to be so hot, the annual New York City Triathlon planned for Sunday was canceled.
Mayor de Blasio is taking a break from his long-shot presidential campaign and canceling a weekend trip to Iowa. He took a critical drubbing for being out of the city and on the campaign trail when a Con Ed equipment problem blacked out much of Manhattan's West Side for several hours Saturday.
In preparation for the record-challenging weather, de Blasio signed an executive order Thursday declaring a heat emergency and ordering city agencies and office buildings higher than 100 feet to keep their thermostats at 78 degrees from 9:00 a.m. Friday through 11:59 p.m. Sunday.
"City government is limiting its energy use to reduce strain on the electrical grid, and now private office buildings will also have to do their part." de Blasio said.
Bedford Stuyvesant Volunteer Ambulance Commanding Officer Antoine Robinson said the FDNY reached out to his office Thursday morning and asked his group to check in at the beginning of each shift to let the department know how many ambulances can be on the road.
"We're celebrating our anniversary this weekend, so we should have a lot of EMTs on standby," Robinson said. "The FDNY wants us to log on and let them know when we can pick up calls during the heat wave."
He added, "You can get a little anxious because they're anticipating a lot and we only have one ambulance, but if we just help one life over the weekend, it will be worth it."
Robinson said his volunteer group is not normally part of the 911 system. Thy last helped out on 911 calls last time they were asked to help out on 911 calls was during last winter's bitter cold snap.
The mayor's office has listed several heat safety tips on the city's web site, urging anyone with trouble breathing, hot dry skin, a rapid heartbeat, confusion, disorientation, dizziness, nausea or vomiting to call 911.
———
©2019 New York Daily News
McClatchy-Tribune News Service