NJ EMS agency is back on track after implementing corrective action plan
EMS Consulting Services is overseeing the Delran Emergency Squad after its license was suspended and its former chief sentenced to jail
---
By George Woolston
Burlington County Times, Willingboro, N.J.
DELRAN, N.J. — After having its license suspended for the last six months of 2018, and seeing its former chief sentenced to 30 days in jail, the Delran Emergency Squad is back serving the Delran and Riverside communities — under a few conditions.
The combined paid and volunteer emergency squad began operations again this January under a corrective action plan established by agreements with both the township and the New Jersey Department of Health.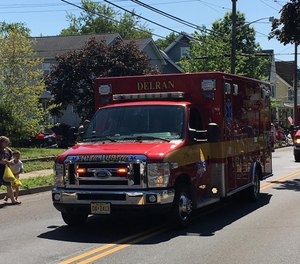 While the corrective action plan has allowed the squad to keep its license as a basic life support agency, the squad won't be able to operate on its own until 2020 at the earliest.
According to an out-of-court settlement reached with DOH in November, it must first operate for 12 months under the basic life support agency license held by EMS Consulting Services, who will also have direct operational control over the squad for that same time.
EMS Consulting Services is an EMS, police and fire department consulting firm based in Hammonton. According to the settlement, the firm has not only been overseeing the emergency squad's day-to-day operations but has also been working with the squad's board of directors and township officials to develop policies and procedures that meet both state and national EMS standards.
"Things are better than they were," said Chuck McSweeney, principle of EMS Consulting Services, earlier this week.
The Delran Emergency Squad's license was suspended in July 2018 by the DOH due to multiple violations, including operating vehicles with uncertified staff, altering patient care reports and hindering an audit investigation.
An investigation revealed that the squad's then-chief Donald Horner had altered reports on 27 different occasions when he served as a crew member to conceal the fact that he was an uncertified EMT, which would have disallowed the squad from billing for those services.
Horner resigned shortly after the squad's license was suspended last year, and has since been been arrested. In May, he pleaded guilty to third-degree insurance fraud and third-degree tampering with public records, and on June 18, he was sentenced to 30 days in Burlington County Jail.
According to the settlement with the DOH, after 12 months the squad will begin operations under its license but must retain EMS Consulting Services for consulting services for no less than 12 more months.
"I would say that they're (Delran Emergency Squad) heading in the right direction," Delran Mayor Ken Paris said Tuesday. Paris added that there are still some issues that need to be ironed out, such as the squad's response time, which he believed could be because of a shortage of staff.
McSweeney said that it has been looking to find more of both volunteers and paid staff.
"EMS is a revolving door," McSweeney said. "There's a shortage of EMTs in my opinion ... we're always looking."
The squad, independent from both Delran and Riverside, will have both its worker's compensation and general liability insurance covered by Delran through the Burlington County Joint Insurance Fund for the 12 months of its service agreement with the township.
Delran also loaned the squad $26,000 as seed money to help get its operations back up and running, Business Administrator Jeffrey Hatcher said. Hatcher added that the squad has a similar agreement with Riverside.
Hatcher said that after its six-month suspension the squad, which relies on billing reimbursements from insurance companies, didn't have the funds necessary to begin operations.
The squad must repay the loans by the end of the year.
As part of the service agreement with Delran, the township has the right to inspect the ambulances the emergency squad uses, as well as perform periodic audits of all services provided and all financial information, billing, records, call logs, accounts payable and accounts receivable.
The service agreement also stipulates that its members must have all appropriate licenses and certifications and that all ambulances must be staffed by personnel who are EMT-certified.
Paris said that he expects that a formal review of the emergency squad will be conducted later this year.
———
©2019 Burlington County Times, Willingboro, N.J.
McClatchy-Tribune News Service