ARGO launches 2 new first-responder vehicles
The new Responder MD and FF vehicles feature interchangeable features allowing the units to serve as a firefighting pump or an off-road ambulance
---
ARGO released two new vehicle models for firefighters and search and rescue personnel as part of its 2016 First Responder series.
Designed for off-road fire and rescue, the new 2016 ARGO Responder MD and FF vehicles feature interchangeable modules allowing the unit to serve as a firefighting pump, off-road ambulance or crew transport for a team of up to six first responders.
The ARGO Responder FF includes a 75-gallon water tank and 5 gallon drop-in foam cell that firefighters can use to suppress fires on the spot or prevent fires before they start. The ARGO Responder MD features a Ferno #9 stretcher for extricating patients or performing rescues. The Ferno #9 stretcher is interchangeable with the standard stretchers used in ambulances.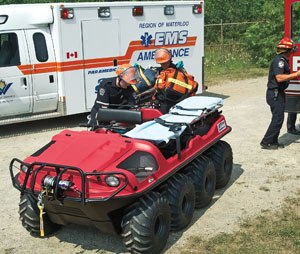 Both units can also be outfitted with a number of industry-specific accessories, allowing fire departments and search and rescue organizations to customize their vehicles with add-ons such as baskets (Ferno Traverse), Whelen lighting packages, warning sirens, O2 bottle holders, head immobilizers, brushguards, winches and bilge pumps.
The two models will be revealed to the public for the first time at the EMS World Expo from Sept. 15-19 at booth #559.

Request product info from top EMS Vehicles companies
Thank You!