4 questions to answer before purchasing a specialty EMS vehicle
Agencies should take into consideration local terrain, potential hazards and future needs before purchasing a specialty EMS vehicle
---
From off-road search and rescue operations to  navigating a crowd during a sporting event, specialty vehicles help provide EMS services in challenging situations, in addition to providing protection during active threat and MCI responses. No two specialty vehicles are created the same, and they're certainly not created like our street ambulances.
Purchasing a specialty vehicle for your EMS agency requires some unique specifications that your agency must consider, like, will the vehicle be used solely for point A (scene) to point B (transporting ambulance) purposes? Or, will it be capable of (and credentialed for) transporting patients to a hospital?
Aside from these initial considerations, here are four questions that you should ponder when you're in the market for purchasing and designing a specialty vehicle for your EMS agency.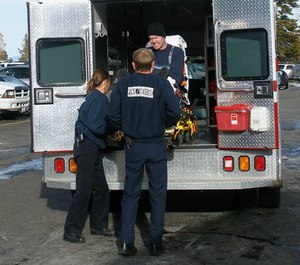 1. What will the specialty vehicle be used for today?
Your response here will answer the original intent behind the purchase of this vehicle. Is it for off-road patient access, or crowd maneuverability inside of a stadium complex?
What equipment will it need to carry? Custom cabinetry can be designed to fit scoop stretchers, splinting equipment, trauma supplies and even larger oxygen cylinders. Starting with the vehicle's initial intent, moreover, will help you to fill in the blanks for all functional considerations.
2. Is it a new addition, or does it re-purpose an existing vehicle?
We're pretty good in EMS and the fire service at re-purposing our existing equipment. An old ambulance becomes a rehab unit. The former collapse rescue trailer becomes the hazmat team's new decon unit. The prior command SUV becomes an off-road "mini ambulance."
If your new specialty vehicle will be re-purposing an existing vehicle, then integrate your design successes into your new vehicle specifications. Don't re-invent the wheel; if it works, then bring it into the new vehicle's design.
If you're purchasing an entirely new to your agency vehicle, then ask around. Get the vendor's advice, speak with prior clients and see what others have done that is similar to your agency's intent. This might be your first, but it doesn't mean it's the first.
3. Can it go where you need it to go?
An ATV or UTV will travel differently than an SUV or a bus, for that matter. Make sure that you're able to meet your original intent by ensuring your specialty vehicle can actually get to where you need it to go.
Trails require a compact design with all-terrain wheels, while heavy snow cover might require a track system instead of wheels.
If your vehicle is designed for potentially-hostile environments that require secure cover, then simply adding some roll bars and sheet metal to a van won't cut it; you need a vehicle specifically designed for this environment.
4. What can it be used for in 5 years?
Let's face it: EMS is a changing industry. Whenever we make a new vehicle purchase, we hope that we can get as many miles and years out of it as possible. It's important to plan for the future.
Try to anticipate what your community or response needs might look like in the future and design a specialty vehicle that might be able to fill some of those gaps. If the original intent is to purchase a supervisor SUV, then plan for it to eventually transition into a special event response unit once you reach 100,000 miles.
If you're buying a low-profile UTV to fit into a parking garage and maneuver through a stadium, then also consider its potential use on local trails or through a construction zone on a local highway.
Build for today, but prepare for tomorrow.