STEMI, stroke, sepsis and ROSC: EMS systems of care
In the coming years, EMS will be engaged in even more efforts to triage patients in the field to route them to the most appropriate hospitals
---
Systems of care is a term that commonly refers to healthcare delivery that involves multiple organizations. EMS is deeply involved in systems of care for time-sensitive conditions like major trauma, STEMI and cardiac arrest. Formal integration of EMS into those systems of care started in the 1960s and 70s – and the success of those early systems initiatives has continued to reverberate into this decade. 
STEMI systems of care 
At the start of this decade, there was a surge of interest in early recognition and treatment of ST-elevation myocardial infarction (STEMI). This was driven by widespread adoption of percutaneous coronary intervention (PCI) in cardiac catheterization laboratories as the preferred treatment for STEMI.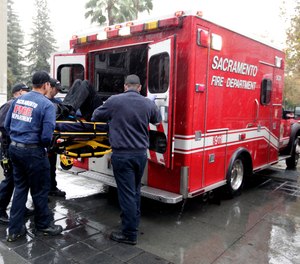 The initial emphasis was placed on reducing the door-to-balloon (D2B) time, which marks the interval from arrival at the hospital door to the opening of the obstructed coronary artery by the balloon and stent on a catheter. A strong effort was made to quickly capture a 12-lead ECG in the ED on patients who presented with signs of cardiac ischemia. Emergency department physicians were also given direct authority to activate the cardiac catheterization lab without the need for prior authorization from a cardiologist.  
While these process changes made considerable reductions in D2B times, the top performing hospitals were utilizing EMS to declare STEMI alerts based on clinical presentation and the 12-lead ECG while the patient was still in the field. This led to even more dramatic reductions in the D2B time because it enabled the cardiac cath lab to be activated before patient arrival, thereby ready to treat when the patient reached the hospital.  
Under the right circumstances, it also enabled policies where EMS could bypass hospitals that did not have PCI capabilities, thereby eliminating delays for inter-hospital transfers. Also under the right circumstances, EMS STEMI alert patients were being routed directly to the cardiac cath lab. This mirrored the general approach taken in the design of trauma systems of care with EMS declaration of EMS Trauma alerts, preferential transport directly to trauma centers, and taking patients directly into a surgical suite. 
This focus is anticipated to shift even further to reduce the symptom onset to balloon (S2B) time interval – with a stronger effort placed on public recognition of the signs and symptoms of cardiac ischemia, minimizing delays associated with the psychological barriers that have patients denying the urgency of their situation. 
[Read: Improving outcomes with STEMI systems of care] 
Stroke systems of care 
Treatment of acute ischemic stroke (AIS) was historically primarily based on the use of thrombolytic drugs to dissolve clots that were causing obstruction of cerebral arteries. Since hospitals commonly had CT scanners to support the diagnosis of AIS and they had thrombolytics, many hospitals were able initiate definitive treatment. 
However, in 2015, new research demonstrated superior outcomes for patients with strokes caused by clots obstructing the larger vessels of the brain when treated by physical removal of the clots with endovascular therapy (EVT) rather than using thrombolytic drugs as the primary treatment.  
Because only a very limited number of hospitals had the technology and staff to perform EVT, it was important to try to identify these patients as early as possible and route them to EVT-capable hospitals. Just like we saw with trauma and STEMI, EMS was called upon to try to triage patients and declare alerts from the field to mobilize hospital resources prior to patient arrival, and to transport patients directly to the most appropriate hospital based on specified criteria. 
The EMS, neurology and emergency medicine communities will be continuing to work on finding more effective, efficient and broadly available ways to identify AIS and LVO AIS in the field so that appropriate patients in appropriate circumstances can be routed directly to EVT-capable hospitals. 
[Read: 9 issues stroke systems of care must address to improve outcomes] 
Sepsis systems of care 
Sepsis used to be a vastly under-recognized clinical condition. While early recognition of sepsis remains a challenge, the last several years have seen a surge of interest and progress in the understanding, field recognition and the establishment of EMS sepsis alert processes, following the general models applied for trauma, STEMI and stroke. 
In the future, the EMS critical care, and emergency medicine communities will also be engaged in efforts for find more effective, efficient, and broadly available ways to identify sepsis in the field so that appropriate patients can have sepsis care initiated in their field and/or initiated promptly upon hospital arrival.  
[Read: Sepsis alert: How to diagnose septic shock]  
Resuscitation systems of care 
Resuscitation systems of care have been in place for several decades – with EMS defibrillation, bystander CPR and public access defibrillation. More recently, there has been a much greater emphasis placed on the quality and the earliest possible initiation of basic CPR. This has driven a much greater emphasis on dispatcher-assisted CPR and the introduction smartphone-based technologies to mobilize nearby citizens and off-duty healthcare professionals in close proximity to a cardiac arrest to initiate basic CPR and utilize nearby public access defibrillators.  
In the coming years, the nascent technology for portable extracorporeal CPR – eCPR – is anticipated to become much more common. eCPR uses the same basis technology as conventional cardiopulmonary bypass machines to pump and oxygenate blood as used when the heart is intentionally stopped for open heart surgery.  
This is likely to be used on a wide variety of cardiac arrest cases to afford the use of diagnostic procedures and treatments that can address the underlying cause of the arrest – such as massive pulmonary embolism and STEMI.  
More sophisticated and formalized criteria are also anticipated for post-arrest assessment to include neurointensive care with continuous EEG monitoring, neurodiagnostics for global brain injury, neuro-prognostication capabilities, neurocognitive testing, outpatient rehabilitation, physical rehabilitation, occupational therapy, and psychological assessment and support. For these treatment options, EMS will again be called upon to play a role in identifying patients where these capabilities are needed and instituting appropriate hospital destination protocols. 
[Read: Progressive cardiac protocol improves neurologically-intact discharge rates] 
This article was originally posted Dec. 11, 2019. It has been updated.

Request product info from top Medical Monitoring companies
Thank You!