Improving outcomes with STEMI systems of care
Address protocols for all the institutions involved across the continuum of care to initiate definitive treatment for STEMI patients
---
In an earlier column on stroke systems of care, I noted a system of care is a collection of processes that interact to identify and treat a patient with a specific medical condition. ST elevation myocardial infarction (STEMI) is a high-risk, time-sensitive condition (HIRTSC) that benefits from a systems of care approach. HIRTSC have many things in common and it makes sense to consider developing systems of care for all of the HIRTSC together, rather than separately.
Like other HIRTC, clinical outcomes for STEMI are improved when definitive care is initiated as soon as possible. For STEMI patients, definitive care is usually a percutaneous coronary intervention (PCI) for placement of one or more stents in the obstructed coronary artery. If access to PCI is not available within 90 minutes of first medical contact, thrombolytics might be given to initiate definitive care.  In the event that thrombolytics are not successful in resolving the acute obstruction, "rescue" PCI is still an option. There may be circumstances that suggest coronary artery bypass is needed rather than PCI or thrombolytics. In those cases, it may be necessary to transfer the patient to a hospital with that capability.
To accomplish the goals of rapid definitive treatment for removing the coronary artery obstruction and to increase the chances for long-term favorable outcomes, the STEMI system of care should address the following issues across the entire community/region, not just for a specific 911 communications center, ambulance service, rescue agency, hospital, rehabilitation center or physician practice.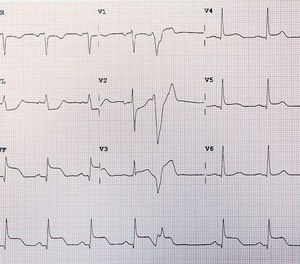 Public education. The general public will need processes to help/encourage them to quickly and reliably identify heart attack signs and symptoms, and convey the urgency for accessing emergency care – preferably via EMS so that field triage and care can direct patients to the most appropriate hospital, allow for pre-activation of the cardiac cath lab and manage any complications prior to hospital arrival.
911 communications. 911 communications should identify potential acute coronary syndrome (ACS) cases so that appropriate pre-arrival instructions can be conveyed. They can also inform responding EMS units of a possible ACS case so crews are aware of the possibility in their assessment. Due to the time sensitivity of ACS, the closest available EMS unit, regardless of jurisdictional boundaries, should be considered for deployment to the scene.
EMS triage and destination protocols. Non-transport medical first response and ambulance crews will need protocols to guide the triage of likely ACS cases. Based on parameters for identifying the most likely STEMI cases, the time elapsed since symptom onset and the differences in estimated travel time to thrombolytic versus PCI capable hospitals, the protocols should inform the selection of a destination hospital. EMS crews should also have protocols for formally declaring a STEMI alert and notifying the destination hospital early so the cardiac cath lab team can be activated before patient arrival at the hospital.
Emergency department protocols. Emergency departments should have protocols in place to quickly screen walk-in cases for STEMI cases and immediately prioritize their care. They should also have processes for how to respond to EMS STEMI alerts with activation of the cardiac cath lab team. These protocols may include direct to cath lab policies for the most likely and straightforward patients that meet specified criteria [1-2].
Inter-facility transfer protocols. If the initial destination hospital ED does not have PCI capabilities and achieving the 90 minute first medical contact to device goal is still possible; or if initial thrombolysis was unsuccessful and rescue PCI is needed, a process will be needed to promptly request and prepare the patient for an emergency inter-facility (Stat) transfer. Protocols for these cases will also be needed for the ambulance service that provided the scene-to-hospital transport; the ground or air ambulance service that provides the actual interfacility transport and the receiving hospital.
Cardiac cath lab team protocols. Processes are needed to quickly notify the cardiac cath lab team when a STEMI alert is declared. Different versions of the protocols may be needed for when the cath lab team members are already in the hospitals versus after hours scenarios.
Post-acute care. Processes are needed to ensure a smooth transfer from acute to  post-acute care. In cases with severe disability or complications, this may involve transfer to long-term acute care and/or skilled nursing facility care. Even with low severity cases, there should be referral to and completion of a cardiac rehabilitation program.
Secondary prevention. Processes are needed to refer STEMI patients back to their primary care physicians and any specialists for follow-up to begin processes for secondary prevention and support their compliance.
Systems level QA/QI and research. Throughout this continuum for an acute myocardial infarction episode of care, there should be processes in place to gather data that is abstracted into registries or similar tools to measure the performance of the various processes just outlined and give prompt feedback on a case-by case level to clinicians and on an aggregate level for organizational and systems level feedback.

This abstracted data can then help identify improvement opportunities and research. Participation in formal clinical registries at a state/national level is preferred as the large numbers of cases can support registry-based research. Agencies and institutions that participate in the community/regional system of care for STEMI should regularly meet as a group to review systems level performance reports and collaborate in systems-level improvement and research projects.
A community/regional STEMI system of care consists of lots of different organizations, lots of different teams and functions within those organizations, lots of hand-offs, lots of communications needs – and lots of opportunities to do each part well and connect it to the next part of the system of care well – or not so well. That's why the design, operation and improvement of our STEMI systems of care need to address the whole system of care.
References
Tolles J, Bosson N, Kaji AH, Henry TD, French WJ, Gausche M, Andruss K, McNeil N, Nakkim EC, Thomas GS, Gunderson MR, Lewis RJ. Implementation of the American Heart Association PreACT Protocol for Prehospital Identification of ST-Elevation Myocardial Infarction. Poster presentation, Society for Academic Emergency Medicine Scientific Sessions. May 2018.
Baran KL, Ajoku A, Kavian JA, Lange DA, Hildebrandt DA, Kontos MC, Gunderson M, French WJ, Henry TD: Prospective Assessment of the Mission: Lifeline PreAct-STEMI Algorithm to Reduce False Activation of the Cardiac Catheterization Laboratory. Poster presentation at the 2018 American College of Cardiology Annual Scientific Sessions. March 2018