MCI and disaster-communication system debuts at Consumer Electronics Show
Panacea's Cloud will allow first responders and medical directors to better coordinate their response to mass casualty disasters
---
COLUMBIA, Mo. — Panacea's Cloud, a new disaster management system, will be presented by University of Missouri researchers at the 2016 Consumer Electronics Show on Jan. 6-9, 2016, in Las Vegas.
Panacea's Cloud is a hands-free, wireless and portable system made with Google Glass and Recon Jet smart eyewear. It enables audiovisual communications between first responders and medical directors during disaster situations where communication access could be limited.
The system allows first responders to evaluate scenes quickly and strategically delegate triage responsibilities more efficiently, potentially saving lives.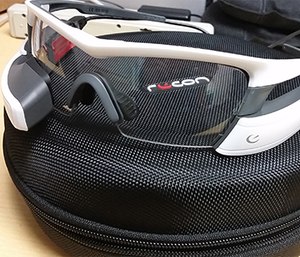 The system was created by Sal Ahmad, M.D., assistant professor of surgery in the MU School of Medicine and medical director of the Trauma and Surgical Intensive Care Units at MU Health Care, Prasad Calyam, Ph.D., assistant professor in the MU Department of Computer Science, and graduate and undergraduate students at MU.
"Communication technology as it currently stands in a mass casualty disaster is quite limited," said Ahmad. "It is difficult for medical personnel in the absence of necessary communication tools to efficiently respond, which can lead to the loss of lives. Sensing this need, we set out to create a more efficient system that allows for better communication between first responders and medical directors, making it easier for them to keep up with what responders are doing and expedite the triage process."
Panacea's Cloud uses special software that displays incident catalogs, contact information for supervisors and all involved, disaster status notifications, tracking of nearby medical facilities, and video and audio feeds. The software also includes a video chat application and helps track the rate at which medical supplies are distributed and when they need to be replenished.
Calyam and Ahmad were one of five research teams to receive MU Coulter Awards in 2015. Funded by the Wallace H. Coulter Foundation, the program provides five $100,000 grants annually to MU researchers to accelerate biomedical discoveries from lab to market. These awards are given to researchers whose projects demonstrate great scientific potential and meet a well-defined health care need.
"The Coulter grant allowed us to hire students to be the nuts and bolts and brains behind the system," said Calyam. "We plan to use the grant to develop Panacea's Cloud into a product that is ready for market."
The Consumer Electronics Show is an annual trade show organized by the Consumer Technology Association that features products from more than 3,600 companies worldwide.