Free Fla. non-emergency transport service gets a new financial donor in the nick of time
Port St. Lucie Volunteer Ambulance had been dangerously low on donations
---
By Leila Merrill
PORT ST. LUCIE, Fla. — A free ambulance service was about to have to shut down when it got a lifeline, WFLX reported.
Port St. Lucie Volunteer Ambulance got a new donor Monday who will help the organization continue operations for months.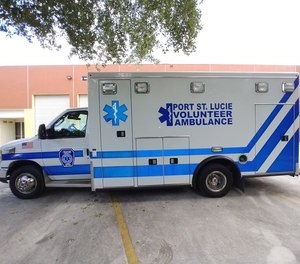 The service transports non-emergency patients to hospitals and for other medical appointments free of charge. It had survived on donations for decades until the pandemic sapped some of the service's funding sources, said Chief Tina Vazquez. Gasoline prices have also impacted the service's bottom line.
The end could have come this month.
But then Scott Van Duzer, owner of Big Apple Pizza in Fort Pierce, Fla., found out about the struggle, and he got in touch with a friend.
Tony DiFrancesco, who owns Tri-County Enterprises, met with chief Vazquez and her team Monday. DiFrancesco wrote a $5,000 check and said he would keep supporting the service until other donations start to come in.
"We're going to see what we can do to get some more donations to them," DiFrancesco said. "I had to transport my mother back from the St. Lucie Medical center to her house, so that kind of hit home."
The donation helps the service assist patients immediately, Vazquez said.
Request product info from top EMS and Ambulance Fleet Management companies
Thank You!