High quality CPR: BLS cardiac arrest care
Providing accurate ventilations and oxygenation in concert with effective chest compressions and timely defibrillation contributes to saving lives in the BLS setting
---
In EMS, it is common practice to learn and perform basic life support interventions before advanced life support, and an intro to basic cardiopulmonary resuscitation is taught in emergency medical responder and emergency medical technician entry levels certifications.
Michael W. Dailey, MD, FACEP, FAEMS, Division of Prehospital and Operational Medicine Chief, Professor of Emergency Medicine, Albany Medical Center, explained how patients in sudden cardiac arrest are treated at a session presented at the EMS World Expo.
Dr. Dailey emphasized the importance of the changes in cardiac arrest care that has occurred in throughout the years. "EMTs save lives," Dailey noted. "Never let anyone say you are 'just an EMT!'"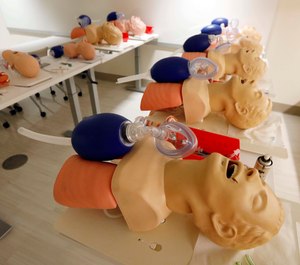 History of resuscitation
Heart-lung resuscitation, now known as cardiopulmonary resuscitation (CPR), has gone through extensive advancement over the past several decades, however, the history of resuscitation was first documented during biblical times. Mouth-to-mouth resuscitation was first mentioned in 800 BC when the prophet Elijah saved a little boy by placing his mouth on the boy's mouth (2 Kings 4:34) noted Dr. Dailey.
Over time, these lifesaving methods would lose traction until 1741, when The Paris Academy of Sciences finally linked mouth-to-mouth resuscitation to saving drowning victims. A common killer at the time, it wasn't uncommon for bystanders to try to save drowning victims by placing them on trotting horses, hanging them upside down or rolling them across a barrel. In modern times, this would equate to an external stimulant, such as chest compressions, to keep the blood flowing through the heart, causing artificial circulation.
In 1960, at a conference in Maryland, mouth-to-mouth resuscitation and chest compressions were combined. Later, defibrillation would be added to complete the present-day CPR algorithm and training.
Defibrillation
The science of electric resuscitation (otherwise known as defibrillation) in sudden cardiac arrest patients was also discovered during the same time frame of lung resuscitation and chest compressions. In 1788, Dr. Charles Kite published "An Essay on the Recovery of the Apparently Dead," when he discovered an important factor in "recovery of the apparently dead, is the time that elapses before proper remedies are applied."   
High-performance CPR
Studies have shown the benefits in providing accurate ventilations and oxygenation in combination with effective chest compressions and timely defibrillation when performing high quality CPR. This is accomplished by continually practicing the following as a team:
Pit crew approach. During training and while enroute to the scene, providers should work out their responsibilities prior to arrival from turning on the monitor prior to approaching the patient, applying mechanical CPR device, applying the defibrillation pads, intubation, etc. Everyone on the team should know their local available resources and understand their specific roles for CPR to work as efficiently as a race car pit crew.
Focused practice on a rate of 100-120/minute. Performing compressions at the appropriate rate allows the cardiac output to continually maintain an artificial rhythm. This, in conjunction with appropriate depth and recoil, allow the heart the capacity to pump blood throughout the body until defibrillation can be delivered to send the heart into a normal sinus rhythm.
Focused practice on depth. One of the most important aspects of performing CPR is depth of chest compressions when building the coronary perfusion pressure. Inefficient depth can lead to inadequate simulation of the flow of blood through the heart causing the blood to break down inside the heart forming clots.
Focused practice on recoil. It's important to come all the way off the chest to get effective coronary arterial pressure when filling the necessary volume of blood needed to circulate through the body.
Additional resources on CPR training
Learn more about CPR and AED training with these resources:
References
Alzaga, A. G., Varon, J., & Baskett, P. (2005). Charles Kite: The clinical epidemiology of sudden cardiac death and the origin of the early defibrillator. Resuscitation, 64(1), 7-12.
American Heart Association. History of CPR: Highlights of CPR dating back to the 1700's
Edelson, D. P., & Walsh, D. (2010). The science of CPR: Identifying the factors key to improved patient outcomes. JEMS, 35(12), 8-10.

Request product info from top EMS CPR & Resuscitation companies
Thank You!