Training Day: Train citizens to use an AED
Citizens are the force multipliers of public safety, and have the potential to save lives before EMS arrives
---
EMS Week has come and gone, but that doesn't mean that you can stop advocating for EMS advancement and community outreach the remaining 51 weeks of the year. In fact, there's ample opportunity for your agency to get some face time with your citizens by providing training on AED use, or even your local community AED program.
What seems to hold us up when it comes to training our communities are the professional standards required to become certified as a basic life support or even community-based first aid/AED course instructor. What we need to remember, however, is that we shouldn't be teaching ambulance-compliant courses to the general public. We should be teaching them bystander-focused courses, and the majority of states have no requirements regarding the certification of bystanders.
This means that anyone can be an instructor, including your entire EMS agency staff.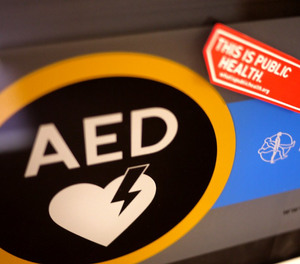 Not everyone is cut out to be a training officer. But, for those who may not have formal certifications as AED and CPR instructors, this may be an opportunity to get started in instruction by teaching the general public about these life-saving interventions. After all, bystanders are on scene first, and many of them want to help.
Train your staff in AED instruction
Choose wisely; start with providers who have an expressed interest in instruction and show clinical experience within the discipline (e.g., deploying an AED).
Develop your own abbreviated curriculum. Keep in mind there are established criteria for teaching courses credentialed by organizations like the American Heart Association and the National Safety Council, and you can't just use copywritten materials for unauthorized distribution or classes. However, you can base your class on your local practices and protocols. Just remember to keep them bystander-oriented (so no epinephrine, supraglottic airways or bag-valve mask devices).
If your personnel aren't already versed in providing adult education, gently ease them into teaching the general public with this 3-step process to become an instructor:
Shadow another instructor
Present a lecture within a course
Finally, present a full course or skill session
Keep things simple. Laminate an index or business card with some helpful tips. Put your agency logo on it to give your agency a little positive publicity. Who knows, your training may even inspire someone to become an EMT!
Train the public in how to use an AED
To train the public in how to use an AED, focus on the basics during your instruction: turn on the device ... follow the prompts. One pad goes here, another goes there. If no shock is advised, start with hands-only CPR.
Share resources, such as where AEDs are located throughout your community's AED program. If there are any local apps that can direct bystanders to these locations, share these as well.
This can all be taught during a short in-person class on a weekday evening, on a Saturday morning or as bystanders pass by your community outreach booth at a local festival. AED training can even be performed in a high school gymnasium as a part of staff development or a mass training event for an entire school.
The goal here is outreach, advocacy, awareness and action. Train your community members so that they can do something to save lives while you are on your way to respond to the emergency. Whether your response time is four minutes, 14 minutes or 24 minutes, that's a lot of time that has gone by while your witnessed cardiac arrest patient – the bystander's husband, friend or neighbor – has gone without circulation. Putting this valuable knowledge into the hands of your community is invaluable (and undeniably, lifesaving.
Advocate to your customers – your community – that they can make a difference (even with a few minutes, or an hours' worth of training).