2020 AHA CPR and ECC guidelines: A quick start-guide for EMS
Articles, explainer video, online course and more resources introduce updated guidelines to EMTs, paramedics and EMS students
---
The American Heart Association 2020 CPR and Emergency Cardiac Guidelines recommend evidence-based approaches for CPR and emergency cardiac care. The 2020 AHA updates have implications for EMS patient care and numerous resources are available for medical directors, service directors, educators, field providers and students to understand the 2020 CPR and ECC updates.
Starting in 2015, the AHA released updates as the science dictated changes in practice, so the 2020 CPR and ECC updates should be less jolting to protocols, tests and existing knowledge than the previous updates. Nonetheless, many EMS providers probably have a lot of questions, like:
What has changed?
What do those changes mean for me and my patients?
Will my service's protocols change and how soon?
Will the Healthcare Provider, ACLS and NREMT tests be updated?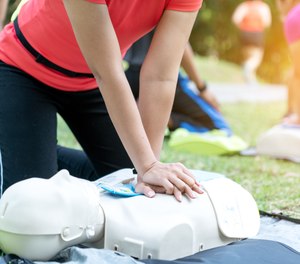 To get started answering those questions, here are four tips:
1. Read the initial announcement for a high-level overview of what's new. The AHA press release highlighted these guideline updates:
Updated CPR guidelines address health disparities and the management of opioid-related emergencies as well; early bystander and AED intervention remains key to survival.
The Chain of Survival has been expanded to include a recovery link, which emphasizes physical, social and emotional needs of patients and their caregivers after survivors leave the hospital.
CPR training to now include guidance on responding to victims of suspected opioid overdose.
The guidelines offer suggestions on ways to increase the use of CPR by lay-rescuers, including the use of mobile technology to recruit trained lay persons to assist with CPR rescues.
2. Dive deep into the updates with additional resources. Rollout of the 2020 CPR and ECC guidelines included a video discussing the evidence-based approach to updating the guidelines, highlights of the adult, pediatric and neonatal guideline updates and an approach to resuscitation education science. In addition, the full updated guidelines are available online in the "Circulation" journal. Explore the additional resources on the AHA website for podcasts and infographics.
3. Update your knowledge with an online course
The 2020 AHA Guidelines Science In-Service online course gives healthcare institutions and EMS services information on the key changes to the guidelines. The course is described as an "interactive, self-paced, multidisciplinary course" on the changes impacting basic, advanced, and pediatric life support.
4. Implement the new AHA CPR guidelines at your service
Putting the updated CPR and ECC guidelines into practice at your service, like any protocol update, is a collaborative effort led by the medical director and service director. Updated protocols should be accompanied by communication to and training for all personnel. Also make sure to update ePCR fields and quality improvement processes to reflect any protocol changes.
Service level implementation might not happen overnight. In fact, it could take weeks or months until the new guidelines are fully integrated into your patient care, training, documentation and quality assurance. Meanwhile, always remember the things that matter most to survival from sudden cardiac arrest:
Bystander recognition and 911 activation
Early bystander CPR with dispatcher assistance
Defibrillation by a layperson or trained rescuer
High-quality CPR (right rate, right depth and use a feedback device)
Treatment in place until return of spontaneous circulation
Finally, the 2020 AHA CPR and ECC guidelines are a reminder that medicine is dynamic. Research findings and technological advancements lead to new approaches, innovations and resources for saving lives from sudden cardiac arrest.