How to manage ambulance safety on the microscopic level
It's important to clean and decontaminate the ambulance interior regularly to prevent the spread of germs
---
Sponsored by Stryker
By Shawna Renga for EMS1 BrandFocus
Patient and provider safety is the cornerstone of effective emergency medical services. Often the focus for providers is on safety issues surrounding lifting and moving patients, managing volatile situations and safe ambulance operation. It's important to remember that safety issues are present not just in these larger situations, but on a microscopic level throughout the healthcare environment.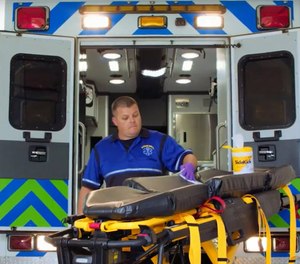 According to the Centers for Disease Control, each day one in 25 patients in the U.S. hospital system will be diagnosed with a healthcare-associated infection (HAI) [1]. These bacterial, viral and fungal infections are potentially devastating for patients and are largely preventable with proper infection control and cleaning protocols. Research shows that when healthcare providers are aware of infection problems and take specific steps to prevent them, rates of infection can decrease by more than 70 percent [2].
Prehospital infection management
The prehospital environment presents a unique challenge when it comes to infection management. The patient compartment of an ambulance is exposed to contaminants from a variety of sources, including patients, providers and family members. Although it is the site of important patient care, without proper cleaning and disinfection procedures the back of an ambulance can be an environment where pathogens flourish.
Emergency equipment – such as the cot, cardiac monitor and bag – that medics carry into a patient's home or care facility can transmit pathogens into the patient compartment and subsequently into the receiving facility. Smaller equipment like blood pressure cuffs and stethoscopes contact multiple patients per shift and may be overlooked during post-run cleanup of the patient compartment.
One study of healthcare workers showed that although 93 percent of providers believe stethoscopes can be involved in pathogen transmission, only 29 percent report cleaning their stethoscope after each use, despite evidence that stethoscope diaphragms in a healthcare setting have a bacterial colonization rate of 86 percent [3].
Challenges to thorough disinfection of the patient compartment and equipment include time constraints, compatibility issues with multiple surface materials, availability of decontamination tools and ease of use for providers.
Surface compatibility is a particular concern, as degradation caused by some chemicals can cause materials in the patient compartment to break down over time, increasing the risk of pathogen transfer through cracked or porous surfaces. Ensuring compatibility between patient care equipment and chemical disinfectants is important for long-term infection control.
Lack of education on appropriate use of cleaning and disinfecting products may also be an issue, as many products have a required "wet time," during which the product must remain wet on the contaminated surface in order to be effective. Products that recommend application via a spray bottle can allow for uneven product distribution and longer drying times, delaying post-run turn times for EMS crews and prompting them to manually dry the surface after application to speed up the process.
How a new germicidal wipe offers quick surface disinfection
To best address safety concerns at the microscopic level, agencies should consider providing ambulance crews with products that are effective on multiple surfaces, with a short "wet time" and broad-spectrum pathogen control. Stryker's SideKick disinfecting wipes are easy to use and effective at disinfecting surfaces with a two-minute wet contact time, which allows providers to quickly wipe down all patient contact surfaces after each call. SideKick wipes offer broad-spectrum efficacy that is tuberculocidal, bactericidal, virucidal and fungicidal.
Agencies can aid providers in maintaining safety at the microscopic level by ensuring that all surfaces and that disinfecting products on hand are compatible with a wide range of materials. Stryker has developed and tested its SideKick wipes to be 100 percent compatible with the materials, including those used in Stryker EMS cots, chairs and fasteners. Ensuring compatibility allows providers to quickly wipe down at-risk high-touchpoint surfaces without concern for surface degradation.
Reduce the chances of healthcare-associated infections
Proper education of EMS providers on the importance of safety at a microscopic level can drastically reduce the chances of healthcare-associated infections in the prehospital environment. Reiterate the importance of proper disinfection in the ambulance compartment to all providers. Train new staff to take the extra few minutes to thoroughly wipe down all surfaces and equipment in the patient compartment at the beginning and end of their shift, and after each patient interaction, to establish good habits that will carry throughout their careers.
By emphasizing safety at the microscopic level, agencies and providers can prevent the spread of infection and help ensure positive outcomes for the patients they serve.
REFERENCES
1. https://www.cdc.gov/hai/surveillance/data-reports/data-summary-assessing-progress.html
2. U.S. Department of Health and Human Services. National action plan to reduce healthcare-associated infections. Washington, D.C.: U.S. Department of Health and Human Services; 2010. Available at http://www.hhs.gov/ash/initiatives/hai/actionplan/index.html.
3. GHUMMAN G.W., AHMAD N., POP-VICAS A., IFTIKHAR S. Stethoscope Cleaning During Patient Care. Rhode Island Medical Journal. 2018;101(4):18-20.
About the Author
Shawna Renga, AS, NREMT-P, currently works as an instructor for the United States Coast Guard Medical Support Services School in Petaluma, California, providing EMT training for helicopter rescue swimmers and Coast Guard corpsmen. She also works part-time for a private ambulance company and lives with her husband and two sons in Sausalito.

Request information from Stryker
Thank You!