ECOSmart Anti-Idling System saves on ambulance fuel costs
The system can achieve economies of $1,500 to $2,000 in fuel costs per year, and reductions of 4.5 tons of CO2 emissions per vehicle, per year
---
By Jamie Thompson
EMS1 Staff
The problem with going green is the expense it can often involve. However, a new system unveiled at EMS World Expo promises to help the environment and help EMS agencies achieve cost savings at the same time.
At the show in Las Vegas, Demers Ambulances announced the launch of the innovative ECOSmart Anti-Idling System, which provides departments with substantial fuel savings and helps better control operational costs.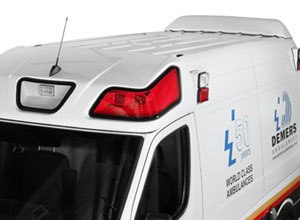 "The bottom line is that it enables your agency to be greener and save you money," said Michael Pelletier, director of engineering at Demers. "The great thing about it is that it is easy money you save."
The system is ready to use on ambulances equipped with the Demers Electrical Management System.
When in ECOSmart mode, the system determines if the vehicle's engine needs to be running to provide both the required electrical power and maintain set temperature parameters in the patient compartment.
Emergency lighting, heating and cooling all remain operational when the engine is turned off – but if temperatures in the patient compartment goes outside the preset limit or there's a battery voltage drop, the engine automatically restarts.
"Once everything is OK, it shuts down the engine," Pelletier said.
"In terms of driver intervention, we wanted to make it as simple as possible – they don't have to do amything, as the system is always on."
The reduction in fuel consumption during idle time is impressive – 40 percent, according to the designers.
"The cost of the system as opposed to the savings you will make is that you'll basically have payback within a year or less, depending on how much idle time the service has," Pelletier said.
The system can achieve economies of $1,500 to $2,000 in fuel costs per year, and reductions of 4.5 tons of CO2 emissions per vehicle, per year.
"The initial program started of when we had a meeting with the province of Ontario, and they wanted to have a green initiative in the province to lower greenhouse emissions," Pelletier said.
"What we started off with was establishing an APU system; basically a diesel engine that gives you heat and electrical power and that also powers the air conditioning system. However, the challenge with that was it was prohibitively expensive.
"We were able to fine tune that and learn from it, and in turn create the ECOSmart Anti-Idling System."
Over the past 50 years Demers has sold more than 15,000 ambulances to customers in more than 20 countries. For more information on Demers Ambulances, visit the company's official website.