Remembering Jack Stout, the economist who transformed EMS deployment
EMS leaders reflect on the legacy of pioneer Jack Stout, who promoted system status management and high-performance EMS to shape modern prehospital care
---
Jack Stout, remembered for decades of groundbreaking work in emergency medical services, died today at age 76 after a battle with dementia. Stout introduced the concepts of the public utility model, system status management and high-performance EMS as he explored new thinking about how EMS is delivered. Read more about Stout's legacy with a tribute from his friend, Mike Taigman.
Our condolences to his son, Todd, and his family, friends and colleagues.
Jack Stout, remembered for a legacy of implementing the public utility model, system status management and high-performance EMS, died Friday, July 17, 2020. Through his articles, workshops and presentations, Stout worked to explore new thinking about how EMS is delivered. His idea that systems should use data to match supply to demand in an effort to meet response time goals is credited with transforming EMS deployment.
In a tribute to his friend and mentor, Mike Taigman, FirstWatch improvement guide, noted, "I've visited hundreds of EMS systems all over the world and every single one of them as at least one component, one element of something that Jack invented."
We asked EMS Editorial Advisory Board members and industry leaders to comment on the legacy Stout leaves behind. The following are their reflections. We extend our condolences to Jack's son Todd, founder and president of FirstWatch, and the entire Stout family.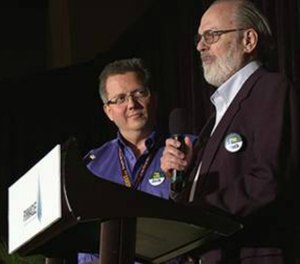 A reference for worldwide EMS excellence
Jack Stout has a had special place in my heart and career development for many years. When I left my first career as an army officer and entered civilian EMS leadership, I was able to translate the military art of IPB (information preparation of the battlespace) into the EMS practice of SSM (system status management). They are both the same – using intelligence, gleaned from data and detailed reconnaissance to understand where the battle will occur and plan to deal with it effectively.
I came to learn from, appreciate and study Jack Stout, as the father of high-performance EMS. My service in the UK adopted his principles, enabling us to employ the amount of available finance and turn it into the best EMS we could provide. After relocating to the U.S., I had the privilege of joining the Richmond Ambulance Authority (RAA), which owes its entire existence to the work of Jack.
In the shadow of his principles, RAA became a public utility model (PUM) and then a self-operated service and developed extreme economic efficiency and response time reliability, which led RAA – and,  therefore, the work of Jack – to be a reference site of EMS excellence for the world.
In the current climate of COVID-19, many would do well to look to the work of Jack Stout as the economy now needs an economist to show how a service can operate in a lean, efficient and effective way.
The industry has lost a legend, but his legacy continues in the services that deliver high performance and high value EMS to this day – every day. The energy and enthusiasm of the Stout family to raise the bar of EMS also lives on in Todd Stout, his loving son, and I pass my condolences on. I know that Jack and his thoughts are still alive with his close family and also wider EMS family.
— Rob Lawrence, principal, Robert Lawrence Consulting; Communications Committee chair, American Ambulance Association
Asking critical questions to challenge assumptions
My knowledge of system status management came from working in systems which implemented some of its principles. You may have asked some of the same questions I asked, "Why are we moving to a different location?" or "What's guiding these decisions?" Looking for answers to my questions led me to Jack Stout's career-defining work to use ambulance demand data to match resources and to create principles for high-performance EMS systems. The continuing use of data in EMS to improve patient care, allocate resources, and most importantly, better serve our communities, owes much to Stout's early work to bring research and data analysis into EMS system design.
EMS is still a profession and a small community. Stout showed that anyone with a combination of determination, dedication and curiosity can impact the entire profession. It is possible for any of us, like Stout, to ask critical questions that challenge assumptions, conduct research on those questions, test research findings in the real world and use those results to continue the ongoing improvement and growth of EMS.
— Greg Friese, MS, NRP, editorial director, Lexipol
Leading the best clinical, operational and financial outcomes
Early in my EMS management career, as a young manager for Ace Ambulance in Fairfield, Connecticut, in the early 1980s, I recall going to AAA conferences and attending every one of Jack's presentations.
His information was invaluable, and he was a mesmerizing speaker, both with his content and unique, direct, no-nonsense presentation style.
It was nearly impossible to keep up with his information due to feverishly trying to take written notes. I finally learned to the key to attending one of Jack's presentations – record it! So I always sat in seats closest to where he would be presenting to get the best sound quality.
His principles and teaching led to the first implementations of SSM at Ace Ambulance, and later at Tri-State Ambulance in LaCrosse, Wisconsin.
His economic and operational expertise in high-performance EMS system design has truly stood the test of time – nearly every public utility model system he put in place in the 80s still exists today – and are generating some of the best clinical, operational and financial outcomes in the country.
Rest in peace Jack, knowing that your profound impact on EMS and the patients we serve is immeasurable.
— Matt Zavadsky, MS-HSA, EMT, president, NAEMT; chief strategic integration officer, MedStar Mobile Healthcare, Fort Worth, Texas
Challenging our thinking
In 1990, I took a job at our state EMS council in Pennsylvania. One of my duties was to plan our statewide EMS conference, which meant I got to recruit our conference speakers. At 25 years old, I saw this as a golden opportunity to network with some of the EMS luminaries I had read about in my early years in EMS. The very first keynote speaker on my "must get" list was Jack Stout. I remember what a thrill it was when he said yes, and when he asked me what I wanted him to speak on, my request was only that he challenge our thinking and disrupt our complacency. Of course, as a once-in-a-generation thought leader in our profession, he delivered. But I was even more grateful for the time he took to get to know me and the interest he took in my budding EMS career.
After that conference, I had a cookout at my house and invited many of the speakers. I was thrilled beyond measure when Jack and Wendy accepted the invitation. I remember telling myself over and over, "Jack Stout is in my living room.  Jack Stout is in my living room."  I mean, wow! It was mind-boggling to be in his company, but he was so down to earth and easy to talk to it made me feel that we had known each other much longer than we had. It was wonderful to get to know personally someone I so greatly admired and respected, and whose contributions to our profession were so immense – and it was even better to discover that as a human being, he was genuinely worthy of that admiration and respect. 
Though Jack's passing today was not a surprise, it nevertheless saddened me deeply. He was a pioneering giant of EMS and his impact will never be forgotten. In addition to all of his professional contributions, he also gave the world his son Todd, another towering figure in our profession whose contributions are unequaled. Quite a legacy. Rest in peace Jack, and thank you for everything.
— Doug Wolfberg, Esq., EMS attorney and founding partner, Page, Wolfberg & Wirth, LLC               
Passion, commitment and drive
We fondly remember when Jack and our founding partner and fellow EMS pioneer Jim Page would engage in the "Battle of the Bids" (private vs. public EMS) debates and seminars at national conferences years ago. It was a sight to behold with these two icons going at it from different approaches. There was never a dull moment! Even though they disagreed on some pretty fundamental issues, Jim and Jack were truly great friends who had developed sincere mutual respect for each other. But most importantly, both displayed the passion, commitment and the drive to examine new ways to improve EMS and make things better for the community. Jack will be sorely missed by so many – his positive impact is still felt by so many communities around the country and will be into the future. RIP.      
— Steve Wirth, Esq., EMS attorney and founding partner, Page, Wolfberg & Wirth, LLC                    
System status management impact on ambulance response
Jack Stout is an EMS pioneer and legend. His work in EMS still has impact in today's EMS management and deployment. As an EMS leader, it always amazed me how the science of system status management impacted ambulance response. EMS management would not be where it would be today without his efforts and innovation.
— Chris Cebollero, president/CEO, Cebollero & Associates
Read next: "Remembering my friend and mentor, Jack Stout," a tribute by Mike Taigman
Learn more about Jack Stout's contributions to EMS
Learn more about the legacy Jack Stout leaves with these resources: