10 weirdest calls of 2020
Bizarre crimes, angry animals, a prank gone wrong, and more - these are the most mind-boggling EMS stories from the past year
---
Sometimes you see one of those EMS headlines that make you, "what?" Or maybe it makes you go, "could 2020 get any crazier?"
It's been a rough year, and many of us have fallen victim to the fatiguing effects of the "infodemic" so that one wacky or unbelievable story can be a welcome relief from the doom and gloom on our news feeds.
Here are 10 odd EMS headlines that made us go "what," "how," "why" and "WOW:"
Eliza Ruth Watson wasn't about to let a "mangy, stanky fox" take her down in her own garden. When the aggressive animal came running at her, Watson defended herself, and managed to wrangle the fox into a large pot after a round of hand-to-paw combat. Watson was transported to the hospital, where she was treated for cuts and bites to her hands and vaccinated for rabies.
"It's not like alligator wrangling where you can position yourself to get the alligator a certain way. I've never had to wrestle a fox before," Watson said.
"Where was the baby at?" "In her womb!"
That response from a terrified grandmother led two Georgia police officers on a high-stakes search for a premature baby who was born in the middle of a car crash. Crystan Dve was in labor and being driven to the hospital by her mother when their vehicle collided with a gate outside of a Hindu temple – the crash totaled the car and Dve was unable to find her baby in the aftermath. Fortunately, Lilburn Officers Danny Bride and Cepeda Huff located the infant girl in a space under the middle seat, miraculously unharmed. The baby, named Cea, returned home from the hospital less than two weeks later.
The New Year started off with a bizarre bang for multiple motorists in California when a man allegedly decided  to treat his pickup truck like a bumper car on New Year's Day, chasing and ramming eight other vehicles, including an ambulance. Fortunately, no major injuries were reported, and the suspect was taken into custody.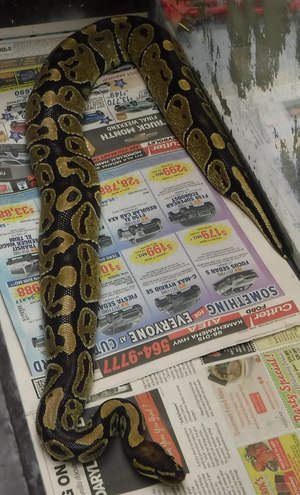 "What do you need, sir?" "I need you to come take me to jail so I can beat y'all little lame [expletive]."
That's how one 911 call in Clark County, Ohio, started, leading to the arrest of a man who allegedly made another 911 call barking like a dog five minutes after sheriff's deputies warned him to stop misusing the 911 system. The man reportedly told the deputies he called the first time to complain that someone was turning off his headphones.
An American Medical Response crew in Hawaii was put in a unique position when they spotted a "suspect" wanted by state authorities – a 4-foot-long, 3-pound ball python. The python, one of a non-native species that is common in the illegal pet trade, was captured by the fearless crew and transported to the Hawaii County police, who handed it off to Department of Agriculture officials.
A helicopter crew came to the rescue of a pair of hikers who met an unexpected roadblock at a California park – a wild cow and its calf. The couple tried to go around the animals, but mama cow wasn't having it, charging them and causing them to fall and injure themselves as they ran away. The helicopter's sirens were used to shoo the cow away so paramedics could approach. Both hikers were ultimately airlifted to safety and treated at a local hospital.  
**Lynch Canyon Hoist-Solano County** This morning, CHP helicopter H-32 responded with fire fighters and Medic Ambulance of Solano County to a report of an elderly couple who had fallen after being chased by a cow. H-32 arrived overhead and located the couple on a trail with the cow and a calf standing feet away in the Lynch Canyon Regional Park. H-32 hovered down to the scene and was able to move the cow by sounding the helicopters siren. A CHP Flight Officer/Paramedic made contact with the couple and determined that they were injured and a hoist rescue would be needed. CHP H-32 hoisted the couple, one by one, approximately 75 feet to H-32 and were flown to waiting crews at the trail head. The couple were transported to a local hospital and were treated for their injuries.

Posted by CHP - Golden Gate Division Air Operations on Monday, August 10, 2020
County authorities were not amused when a "glitter bomb" – a package that shoots out glitter when opened – was mailed to the Luzerne County 911 Center, reportedly addressed to a specific employee. The county District Attorney's Office has launched an investigation, and locals opined to news station WBRE/WYOU-TV that the sender of the sparkly package went too far by involving a government building.
Firefighter-Paramedic-Alligator Hunter Carsten Kieffer was hunting with two friends when a 12-foot alligator jumped out of the water and crunched down on his arm. One of Kieffer's friends, who is also a paramedic, used his belt as a tourniquet to stop the bleeding, and Kieffer later underwent six hours of surgery to save his arm. Kieffer said he is blessed to still have movement and sensation in all of his fingers.
One Kentucky EMS crew's sirens doubled as wedding bells in July when a groom fell ill before he could stand at the altar. After an emergency room visit on the morning of his wedding day revealed the stents in his blocked aorta were malfunctioning, requiring him to be transferred to another hospital for intensive care, Patrick Schulze decided he wasn't going to postpone his saying "I do" any longer than he already had due to the pandemic. In a Woodford County EMS ambulance on his way to the University of Kentucky Medical Center, Schulze exchanged vows with his then-fiancée Tammy Riley, and their pastor officiated the marriage, making them man and wife.
With her husband out of town and neighbors asleep, a Utah woman who found herself unable to produce breast milk for her newborn in the middle of the night picked up the phone and called the only other number she could think of to get help – 911. Shannon Bird said she didn't want to wake up her other kids to go out and get formula, which she didn't have at home because she normally only breastfeeds, and asked dispatchers if someone could bring her some. Two police officers headed over to a convenience store and picked up a gallon of regular milk, which newborns can't drink, but ultimately picked up the correct formula at Walmart, averting the crisis.