Fla. FF-medic survives alligator attack
Tavares Fire Department Lt. Carsten Kieffer said a fellow paramedic on the boat used his belt as a tourniquet
---
By Laura French
SEMINOLE COUNTY, Fla. — A Florida firefighter-paramedic was attacked by an alligator last week, sustaining severe injuries to his arm. 
Tavares Fire Department Lt. Carsten Kieffer was alligator hunting with two other people on Thursday when they hooked a large alligator in shallow water, according to News 13. The alligator then jumped out of the water, biting Kieffer on the right arm and rolling before releasing him and swimming away, authorities said.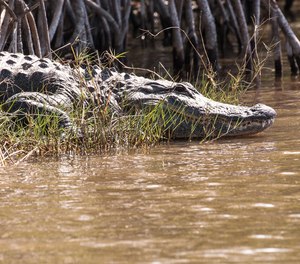 Kieffer told WESH he heard a crunching sound as he was bitten and believed his arm had been amputated below the elbow. One of his friends on the boat, who is also a paramedic, used his belt as a tourniquet, Kieffer said. 
Kieffer underwent six hours of surgery Thursday and said he is blessed to still have movement and sensation in all of his fingers. 
The Florida Fish and Wildlife Conservation Commission sent a trapper to capture the approximately 12-foot alligator, but it has yet to be found. 
Kieffer and his friends were licensed and legally permitted to hunt alligators on the lake, authorities said.