Are EMS leaders worth what they cost?
The Model for Improvement is a tool for EMS leaders to show their leadership matters and they are not a waste of money
---
I have an easy way to make a group of EMS leaders in my conference sessions squirm in theirs seats.
I ask them, "While you're all here at this meeting are 911 phone calls getting answered and crews getting dispatched back home? Are paramedics taking EKGs, giving IV dextrose to hypoglycemic diabetics and completing their electronic patient care reports? Are patients being transported to the hospital, their care transferred to the hospital staff and then your crews going back in service?" 
I've asked these questions to thousands of EMS leaders and no one has ever said, "Nope."
So if all the essential functions of your system are happening while you're away at a conference, what good are you? What value do you provide? 
Presumably, you get paid more than everyone except a handful of overtime mongers. Wouldn't it be a smarter use of financial resources to take that money spent on your salary and benefits and use it to buy a new ambulance or a few new cardiac monitors?
Two ways leaders add value
Before my soft body armor gets tested for real, I'll let them off the hook. In addition to making sure the fuel bill is paid, the county contract gets renewed, your billing practices are not felonious and setting a vision for wall posters and wallet cards, I believe that leaders add real value in two essential ways:
The first way is to make sure that all the key processes in your organization are doing what they are supposed to be doing. The second is to make things better, to make improvements. These improvements can be focused on making performance better, like improving resuscitation rates, or fixing a problem, like poor response times in the suburbs, or taking advantage of an opportunity, like a new law that allows paramedics to vaccinate. These improvements are focused on making something tangibly and measurably better for the patients, the community, the people who work in the system or the organization itself.
Model for Improvement
In this new Paramedic Chief column, our team at FirstWatch along with our customers and colleagues will share actionable strategies, concepts and ideas to make real improvements. While we will draw from disciplines like Six Sigma, Lean Thinking, the Institute for Healthcare Improvement and others you will not need to have a black belt to put these ideas to work in your own EMS system. 
Of all the many improvement structures, frameworks and models, we've chosen one to be the frame of our improvement racecar: the Model for Improvement.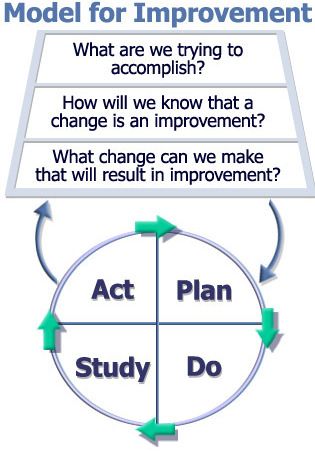 The Model for Improvement which incorporates the Plan Do Study Act cycle. Used with permission from The Associates for Performance Improvement in Austin, Texas.
This model was created by some rock star statisticians more than two decades ago and was adopted by the Institute for Healthcare Improvement as their framework for making things better in health care worldwide. It's much simpler than most of the models you'll find, yet when used correctly its power is mindboggling. 
Leaders get lots of requests: 
A lead paramedic field training officer telling you that it's time for us to implement RSI.
The police chief wants access to your patient data on drug overdoses.
The mechanic who wants you to become an auto parts distributor to save money.  
Will an improvement make things better? Ask two questions
One of the most transformative tricks in your improvement-focused toolkit is to respond to all of these requests with the first two questions in the Model for Improvement:
"What are we trying to accomplish?"
"How will we know that a change is an improvement?"
My experience is that asking these two questions prevents waste faster than a cupcake left under the supervision of a Labrador retreiver. For example, in one community when Steve, the chair of the city council saw Cindy, the EMS chief, at the dedication ceremony for the county hospital's new cardiac cath lab, he said, "It looks like we are going to have the votes to fund the new fire station on Bancroft and 3rd. Should we add a third bay so you can place a paramedic ambulance there?" 
"What do you hope to accomplish by adding a paramedic ambulance to that station," Cindy asked?
Steve responded, "Better service on the south side." 
"That makes sense," Cindy said. "If we put an ambulance at that station, how will we know if it has improved service?"
"Faster response times," Steve said. "I guess."
Cindy thought for a moment. "I'll look at the data, but we currently post 12-hour rigs near the shopping mall and I think that our response times are great in that area," Cindy said. "Posting a rig in that station might actually slow their response time because of its location."
When leaders who practice these tools and principles are asked, "So, what value do you provide as an EMS leader?" They point to performance charts showing how many more people in their community are resuscitated from cardiac arrest now than they were a year ago. They show how the change in scheduling improved employee satisfaction and decreased fatigue. They show how their system reliably gets STEMI patients to balloon inflation in less than 90 minutes, not from the hospital door, but from the first ring of the 911 phone in the primary PSAP.
They are able to show in a statistically valid way how their leadership matters. Our commitment is to equip you to more effectively improve the things that matter.
We believe strongly in the Institute for Healthcare Improvement's all teach, all learn approach to collaboration and we invite you to participate in the creation of this column. If you have topics you'd like us to write about or problems that you'd like us to address, please share them in the comments or email them to me.