After four decades, a Texas EMT is still eager to answer calls
For Richard Ponikiewski, a career of memories, good and bad, are still strong — except one
---
In 1990, after 13 years in EMS, Richard Ponikiewski answered his most difficult call.
"It was around 2 a.m.," the 57-year-old EMT recalls. "We were sent to an apartment complex for an unresponsive four-year-old. The mother had just gotten home and called 9-1-1 when she wasn't able to wake up her son.
"When we got to the scene, a firefighter came running through the house with the child in his arms. That little boy was in bad, bad shape.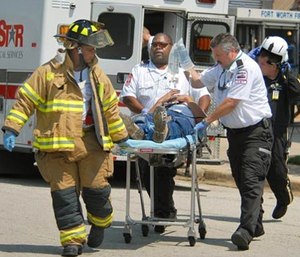 "The mother's boyfriend had been watching the kid and his two-year-old brother. They'd been taking a bath and had splashed some water on the floor. When the boyfriend saw that, he beat the older boy unconscious for not knowing better.
"I wish I could tell you what we did en route, or what happened when we got to the hospital, but I don't remember any of it. All I can say is the boy died."
But there's more to the story. The boundary between our jobs and personal lives isn't always as well-defined as we think.
"After the call, I was sitting on the bumper of the truck at the hospital waiting for my partner to finish up. He came out of the ER and asked me if was okay. I said, 'Yeah, why?' Then he said, 'Do you know why we're here?' I couldn't remember. I still can't recall anything that happened from the time we left the scene until we walked out of the ER."
Ponikiewski's patient had been the same age as his son, Dustin, with almost identical blonde hair and blue eyes. To Richard, the two boys had been one.
"I came to understand that I'd blocked out most of the memories of that call because it was just so horrible to see someone like my son lying there, all beat up.
"Whenever I do peds now, I look at them and think how helpless they are; how much they depend on their parents. Then I see mom and dad and wonder what they've been doing to care for their kids. I mean, why shouldn't a child with a fever get Tylenol? Almost 99 percent of the time, they don't."
Ponikiewski knows it isn't his place to lecture parents about childcare. "The customer is always right – isn't that the way it's supposed to be? Besides, my folks always taught me not to say anything I'd regret later."
EMS is where you find it
Discretion wasn't the only EMS-applicable advice Ponikiewski got as a youngster. In high school, after injuries interfered with his efforts to play both football and baseball, one of the athletic trainers introduced him to emergent care.
"He showed me not only how to treat injuries, but how to help prevent them, by taping ankles and things like that," Ponikiewski says. "I started to think, 'Hey, this isn't a bad gig.'
"The trainer tried to get me into a local college where I could learn to do his job. I didn't get accepted, but I figured I could still find a way to do something medical."
Right after graduation in 1977, Ponikiewski got certified as an Emergency Care Attendant and went to work for Dallas-based American Ambulance.
"They were a mom-and-pop service with three or four trucks that did mostly transfers and stand-bys," the 39-year EMS veteran says. "I was their jack-of-all trades. Sometimes I'd be in the field and sometimes I'd dispatch. If they needed a spot filled, I'd do it."
Shortly after he became an EMT in 1978, Ponikiewski had two memorable calls.
"The first one was a routine transport from a nursing home to the hospital," he says. "The patient was the proverbial little old lady in her '90s, all contracted.
"I was assessing her on the way when she stopped breathing. There was no pulse, so I started CPR.
"At the hospital, everyone was working on her, trying to get IVs and get her intubated, when this doctor comes over and says, 'Why are you doing CPR on a dead lady? She's stiff, leave her alone.' He didn't believe she'd been breathing just a few minutes earlier. That really made me feel bad.
"The other call was an elderly female we were transporting by airplane to her home in Tennessee, where she could die with dignity.
"About halfway there, the pilot asked, 'Do you smell that?' I thought he was joking until I got a whiff of gasoline.
'That's our fuel,' he said. 'We have a leak. We need to find an airport.'
"We landed pretty quickly in Hope, Arkansas, which happens to be the birthplace of Bill Clinton. It was a Sunday, so it took a little while to find a mechanic. We carried the patient into the local FBO (fixed-base operator) and waited about three hours while they fixed the fuel line. We eventually got to Winchester, Tennessee without any other trouble."
Moving on from mom-and-pop
When another agency took over American Ambulance's district in 1986, Richard went to work for MedStar Mobile Healthcare, serving a population of 800,000 in Fort Worth and 13 neighboring cities. He's been there ever since.
From 1993 until 2013, Ponikiewski partnered with Ronnie Ferguson, a paramedic who became a good friend and mentor.
"We got to do something you hardly ever hear about in EMS," says Ponikiewski. "We delivered the daughter and granddaughter of one of our patients.
"Ronnie was always trying to get me to better myself; to become a medic like him. He'd quiz me on calls: What should we do next? Why?
"Unfortunately, Ronnie died of colon cancer in 2013. I try to pass along to students some of what he used to say to me: Don't be so gung-ho about doing everything at once. Start with the basics. Understand what's going on before you start pushing drugs."
Sounds like Ronnie would be proud.