6 EMS questions for the next U.S. president
Policy questions are coming at the presidential candidates from every direction; here are six questions EMS should want answered
---
Our two major political parties have officially nominated their candidates. Hillary Clinton and Donald Trump, mostly in broad brushstrokes, are painting their differences on policy and regulatory issues to voters.
Health care, one of the dominant political issues of the past eight years and likely a top issue for years to come, is of great interest to voters. The different facets of health care are a focus of lobbyists representing different groups like retirees and veterans, political action committees funded by mega-donors, and insurance, pharmaceutical and hospital conglomerates.
I don't expect EMS issues to be specifically addressed by either candidate in the final months of the campaign, but if I was given the opportunity to speak with either candidate one-on-one, these are the questions I would ask.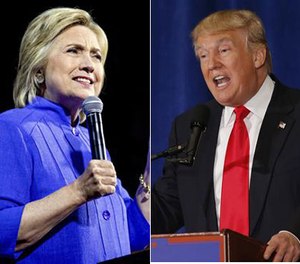 1. How will you permanently fix reimbursement for Medicare and Medicaid transports? 
Ambulance services often lose money when transporting patients with Medicare or Medicaid, because the cost of transport can exceed what is actually reimbursed to them. In addition, no reimbursement is made for transporting patients to alternate destinations, such as mental health facilities or sobriety centers, which are better suited to treating certain sets of problems.
How will you ensure our nation's ambulance services, many run by volunteers or municipal fire departments, are properly reimbursed for the services they provide to citizens on Medicare or Medicaid?
2. What steps will you take to resolve the the fatal opioid overdose epidemic?
Opioid overdoses now kill as many or more Americans than motor vehicle collisions. In some areas of the United States, opioid addiction and deaths are at epidemic levels.
What is the role of the Federal government in reducing the availability of illegal narcotics, and better regulating the distribution of legal narcotics? Where can we find the resources to transport patients to facilities with addiction treatment expertise? What steps will you take to change the focus of EMS, law enforcement and public health efforts from reversing overdoses with naloxone — which has increased in price by 1000 percent — to preventing addiction from starting in the first place?
3. Will you call on congress to pass the Field EMS Bill in your first 100 days? 
EMS does not have a specific home in the federal government. The Department of Health and Human Services, Department of Homeland Security, the National Highway Transportation Safety Administration, and the Centers for Disease Control and Prevention all have interests in and initiatives for EMS, but no single agency has the needs and interests of EMS as its core mission.

Where does EMS belong in the federal government, and will you call on the U.S. Congress to pass the Field EMS Modernization and Innovation Act as a priority accomplishment for your first 100 days in office?
4. What is your plan for Obamacare?  
Though Obamacare has increased the number of Americans with health insurance, it does not seem to have addressed the underlying issues preventing millions from accessing primary care. Since many patients lack access to primary care physicians and are either unable or unwilling to find non-emergent care, emergency services are being tied up with patients requesting aid for minor aches, pains and maladies.
If you do intend to repeal Obamacare, what will you put in its place to ensure health care access for our seniors, our veterans, our disabled and our vulnerable children? Alternatively, if you plan to let Obamacare stand, what will you ask the Congress to revise or add?
5. What actions will you champion to reduce chronic disease care costs?
The costs of treating chronic diseases like obesity, diabetes, hypertension, COPD and heart failure are an enormous strain on our nation's economy, and often crushing to every model of ambulance transport. As you barnstorm the U.S. from now to election day, you will regularly see and hear from voters suffering from these illnesses, and observe firsthand how chronic diseases can be a tremendous obstacle between personal productivity and the pursuit of happiness. 
As president, how will you lead our nation to better personal health, reduce the incidence of chronic disease and regulate tobacco, alcohol, sugar, sodium and other food additives known to directly worsen health?
6. How will you make sure EMS is ready for the next national disaster? 
Paramedics, along with their firefighter and law enforcement officer colleagues, are on the frontlines responding to terrorist attacks, active shooters and natural disasters. Most EMS agencies, already operating at or near the capacity of their personnel and equipment, are hard-pressed to respond to an unexpected surge in service. 
As we near the 15th anniversary of the September 11th attacks, we regularly receive news of departments who are unable to communicate with one another, chiefs who are unable to put political squabbles aside to develop regional response plans, a lack of equipment for paramedics responding to active shooter incidents, and failures to implement the incident command system and collaborate through a unified command. Most recently, the Ebola scare exposed our inability to transport highly infectious patients between the few hospitals actually capable of receiving those patients.
Billions of dollars have been spent on preparedness — equipment, training and staffing — but only a fraction of that money has been directed to EMS and disaster health care. What will you do to make sure our nation's first responders are equipped and trained to respond to disasters as significant or greater than 9/11 or Hurricane Katrina?
Exercise your right as a citizen to vote 
In the final months of the campaign season, research each candidate's positions on EMS and health care issues, as well as the other policy issues important to you. Then make sure to cast your vote for national, state and local candidates this fall.
Many state and national EMS organizations, like the National Association of EMTs and the American Ambulance Association, have advocacy efforts to represent and lobby on the behalf of their members. Add your voice by becoming a member.
Finally, if you find yourself on ambulance standby for a political candidate's campaign stop in your response area this political season, perhaps you will have a chance to ask the candidate how they will support EMS. If you do, let me know what they have to say.