FDNY EMS ordered not to transport cardiac arrest patients that can't be resuscitated in field
EMS providers will be required to comply with the binding order, as hospital and ambulance resources are overstretched due to COVID-19
---
Rob Lawrence writes, "The experience of New York is providing a live playbook for the delivery of mass population EMS and as Dr. Anthony Fauci has briefed us, 'this will get worse before it gets better.' It seems that change is the only constant right now and because of the need to save the masses, more adjustments should be expected." Read more in his analysis.
By Laura French
NEW YORK —  FDNY EMS personnel have been ordered to not transport cardiac arrest patients if they cannot be resuscitated in the field.
The order was made in a letter Tuesday by the Regional Emergency Medical Services Council of New York, which oversees FDNY EMS, to preserve hospital and ambulance resources amidst the COVID-19 crisis, according to the New York Post. Officials said the order is binding and effective immediately.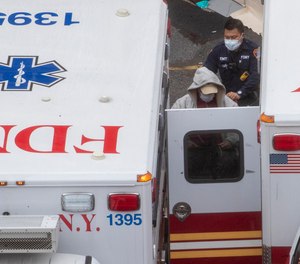 EMS providers will be instructed to begin compressions and artificial ventilation immediately when the patient is determined not to have a pulse, according to the letter obtained by the Post. However, if the patient cannot be revived on the scene, providers are ordered to stop CPR and declare the patient dead, at which point their body will be turned over to the NYPD.
The order applies to all adult non-traumatic or blunt traumatic cardiac arrests, according to the letter, but patients can be transported is there is a return of spontaneous circulation, a direct order from a medical control physician or imminent physical danger to the provider on the scene. 
Deputy Fire Commissioner of Public Information and External Affairs Frank Dwyer said the department is currently planning how to implement the new rule, according to WABC.
Dr. Vinayak Kumar with the Mayo Clinic told WABC, "When you're doing the CPR, you're pushing really hard on the patient's chest and they're expelling some air in the process as well, so if they are COVID patients, they'll be spreading that all around. This is a risk-benefit math you have to take into account."
Dr. Darien Sutton told WABC that the stream of patients never seems to end, and there is nowhere left to put them. The emergency room doctor said the FDNY's new order is "really terrifying."
"As a doctor in New York and as a New Yorker, I have family that live here, and when I hear things like that I obviously get afraid, fearful for the livelihood of my family," Sutton told the station.
New York City has more than 45,000 COVID-19 cases as of Wednesday night, according to the city's health department. An estimated 9,775 of those patients are hospitalized, and more than 1,300 have died from the disease. 
More than 200 FDNY members have also contracted COVID-19.