FDNY hit hard by COVID-19: EMS Chief Bonsignore says historic call volume likely to increase
FDNY EMS Chief Lillian Bonsignore says "any and all options" are on the table to prevent a lag in response times due to the spread of COVID-19 among members
---
NEW YORK — Last Tuesday, the FDNY received 5,700 medical calls – the most ever recorded in the department's history.
On Wednesday, they had 5,800.
On Thursday, they had 6,000.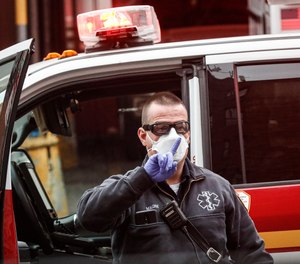 On Friday, they had 6,200.
I connected with FDNY EMS Chief Lillian Bonsignore, who said the sheer number of medical calls was shocking. 
"We've never seen numbers that high," she said.
As community spread of COVID-19 continues throughout the city, the department itself has been hit hard, with more than 200 members testing positive for the virus, and an additional 2,300 members on medical leave for illness or injury.
Bonsignore said those numbers are expected to rise in the coming days and weeks.
"Unfortunately, first responders are not immune to this virus," she said. "Increasing medical leave and increasing call volume is expected."
With such a large number of department members unavailable, officials are looking for ways they can minimize the effect on response times and availability, even as medical demand increases.
Last week, New Jersey Gov. Phil Murphy put out a call for retired paramedics, doctors, nurses, nursing assistants and healthcare workers to return to work and help with the ongoing public health crisis.
It's "all hands on deck," Murphy said in an interview with the Burlington County Times.
While recalling retired or separated providers has been discussed and implemented by other departments, that is not part of the FDNY's strategy going forward, yet.
"There is no plan to recall members, but in a crisis of this magnitude, any and all options are on the table," Bonsignore said. "FDNY EMS members are thoroughly committed to serving the people of New York City during this incredibly difficult time."
However, the call volume must be addressed, she said. Calls to 911 should only be true emergencies.
"Call volume is surging, largely due to 'sick' calls, which are not true emergencies," Bonsignore said. "The department is strongly urging New Yorkers to only call 911 for true emergencies – cardiac conditions, trouble breathing, choking. Those who feel sick, or even have symptoms, should contact their doctor or healthcare provider."
It's vital to the continued success of the department, Bonsignore said.
"Normally, we would have approximately 4,000 medical calls a day, and now we're doing 6,000 or more," she said. "We need the public to help our members by only calling for true emergencies. We need that help and so do the hospitals and ERs."
The FDNY released a PSA last week encouraging New Yorkers to consider the nature of their call before utilizing 911.

While the state of New York is currently the largest COVID-19 hotspot in the country, case numbers in other areas are rising, with all 50 states reporting at least one or more positive diagnoses. The time to plan ahead is now, according to Bonsignore.
"Preparations should take place as early as possible," she said. "Advise the public and first responders to practice social distancing, wash their hands and not touch their face."
Bonsignore also advises EMS agencies, medical facilities and public health officials to get ready for the influx.
"Once community spread begins, be prepared for a very rapid increase in call volume, as well as overcrowded hospitals and sick first responders," she said. "PPE will likely not be readily available to start conserving early."