Detroit to get COVID-19 rapid-testing kits for first responders, healthcare workers
The city has entered into an agreement with Abbott Laboratories to receive 5,000 kits that can produce results within 15 minutes
---
Christine Ferretti
The Detroit News
DETROIT — Detroit expects to be one of the first cities in the nation to get rapid testing kits for the coronavirus to get quicker results for first responders, bus drivers and health care workers.
Detroit Mayor Mike Duggan announced Monday that he's reached an agreement with Illinois-based Abbott Laboratories that will send five testing machines and 5,000 testing kits next week.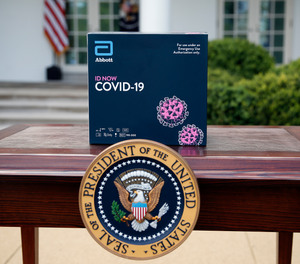 "This is a game-changer for the country," Duggan said during a news conference at Detroit's Public Safety Headquarters. "We're going to run 250 tests a day that will get instant results to our first responders and to our bus drivers, so they know."
Abbott also will provide tests to hospitals in southeast Michigan.
Duggan said the FDA's Friday approval of the instant testing kits is "the biggest breakthrough" in combating the virus, and it will provide results within 15 minutes. They will be distributed to a limited number of communities across the country, he said.
"This test is so sensitive that you can give it almost instantly after exposure," he added.
News of the agreement comes as positive cases in the city continue to climb.
As of noon Monday, Detroit's Health Department recorded 1,804 positive cases of COVID-19 in the city and 50 deaths.
"COVID-19 has no geographic boundaries," said Denise Fair, the city's chief public health officer. "People of all ages and socioeconomic backgrounds have been and continue to be impacted."
The city's public safety officers have been hit particularly hard. Currently, there are 493 sworn officers of the Detroit Police Department under quarantine in the 2,200-member force, including Police Chief James Craig, who is confirmed to have the virus. There are 109 Detroit firefighters quarantine out of its 900-member department.
Duggan said the city is making testing for its police and firefighters in quarantine a top priority over the next two days. The city's bus drivers — dozen of which are in quarantine — will be next. The move, he said, will help get those who might have been exposed to the virus confirmation that they are positive or cleared and back to work.
There are 69 employees of the police department and eight from the fire department who tested positive for COVID-19 as of Monday, Duggan said.
Craig, Duggan said Monday, is "strong" and "barking orders" to his command staff on an hourly basis.
"He wants everybody to know that his body is fighting off this infection," the mayor said of Craig, who is also Detroit's deputy mayor.
The city last week designated the old State Fairgrounds as a regional coronavirus testing site and Gov. Gretchen Whitmer announced Sunday that the TCF Center downtown will get 900 hospital beds from the U.S. Army Corps of Engineers for potential hospital overflow patients during the pandemic.
Duggan said Monday the virus will continue to grow in Detroit for a period of weeks.
"But for the first time, our strategies are getting ahead of it," said Duggan, noting 660 tests were done Monday at the fairgrounds testing site, and that the city has enough supplies right now to carry them for 10 days, which "in this pandemic, is an eternity," he said.
Overall, more than 1,000 tests have been done at the fairgrounds since testing began there Friday. Part of the reason Detroit's positive cases will continue to rise, he noted, is because the city is doing "far more testing than anybody else."
Results from testing at the fairgrounds site are being turned around in three to four days.
Duggan put out a call Monday to doctors and health clinics to step forward to take new patients. He said the city's goal is to make tests available to every Detroiter regardless of whether they have transportation, insurance or a doctor.
"We have got to be able to tie every Detroiter to a doctor with a single phone call," said Duggan, adding his goal is to test people early and get them treatment. "I'm going to continue to push every limit."
The fairgrounds, he said, has the ability to do 700 tests per day, and in a couple of days, residents should expect a directive that will ease some of the early standards in place that prevent some from obtaining the testing.
To address the needs of residents who do not have mobility, Duggan said TCF Bank has agreed to make a $100,000 contribution to the city's transportation fund to help.
To also help limit the spread of the virus within the Detroit's police department, DTE Energy CO. donated 2,000 KN95 respirator masks for the city's police force. The donation came after Duggan requested the help on Saturday, the city said in a Monday news release.
Separately on Saturday, Michigan received 112,000 N95 respirator masks from the national stockpile.
Earlier Monday, Whitmer and Michigan's chief medical executive, Dr. Joneigh Khaldun, told reporters that the number of COVID-19 cases in the state will grow in the coming weeks. Additional health care workers and more ventilators are desperately needed, they said.
Michigan has about 1,700 ventilators, but Khaldun said it will likely need 5,000 to 10,000 more to help patients suffering from respiratory disease.
"We know our hospitals are going to need more beds," she said Monday. "We're going to need thousands more ventilators. And a lot of people are going to get sick."
Dr. Anthony Fauci, director of the National Institute of Allergy and Infectious Diseases, has flagged Detroit as one of the cities that federal officials are concerned about.
As of Monday afternoon, Michigan had 6,498 total cases and 184 deaths overall.
Staff Writer Craig Mauger contributed.
———
©2020 The Detroit News
McClatchy-Tribune News Service