Veteran paramedic pairs community paramedic, mental health specialist in new response model
Julie Lahr, who has been in EMS for 16 years, said she started thinking outside the box after realizing the impact community paramedics and mental health specialists could make in the field
---
Sometimes, the best medicine is taking the time to look a patient in the eye and let them know that you care for the brief amount of time you spend with them during transport.
That's one poignant thing Julie Lahr took from paramedic school.
"That particular seed of patient care was planted years ago and has been growing in me ever since," Lahr said.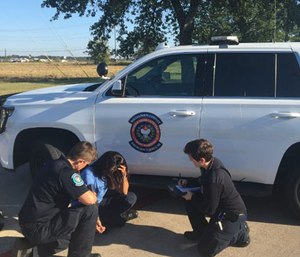 Lahr, who has been in EMS for 16 years, worked as a reserve firefighter-EMT in Borrego Springs, Calif., for two years and then worked as a single-role paramedic in San Diego for eight years. She later moved to Texas and worked for Williamson County EMS as a paramedic for a year.
"I always felt less fulfilled as a paramedic when I never knew what happened to the patients I took to the ED," she said.
Lahr took interest in and joined the community paramedic program with Williamson County EMS – where she says she found out what really made people tick. She spent a year learning the ropes of the program and figured out very quickly that she would have to change her previously-learned way of thinking. 
"It was quite a shift to spend so many years encouraging people to go to the hospital to then find yourself in a position where you're working your tail off to figure out how to keep people from calling 911 and going to the hospital," she related.
During that time, Lahr found herself managing many patients with a mental health diagnosis. This eventually led her to the Mobile Outreach Team (MOT) for assistance.
"After about a year, MOT had a position with their community paramedic program managing high utilizers with a primary mental health diagnosis," she said.
It was then that she realized a newfound passion.
She worked as a community paramedic with MOT for three years before being inspired to create M&M-Medical and Mental Health.
A new model
M&M-Medical and Mental Health, Lahr explained, is a 911 response model pairing a community paramedic and a mental health specialist.
While working for MOT, Lahr said she immediately noticed the important work mental health specialists were doing, and "the powerful, compassionate way they were having success managing the same patients I found so much frustration with. I knew there had to be a better way of doing business."
Due to the small size of the MOT team and extended response times, calls were generally routed directly to the ED due to time constraints once EMS arrived.
"It was a matter of getting the mental health crisis teams' tool box more directly and succinctly into the medical response of EMS," she said.
Lahr used successes from Wake County, N.C., and the CAHOOTS team in Portland, Ore., as inspiration while building the M&M response model.
"We had a round hole and a round peg; we just needed a coordinated operator to put them all together."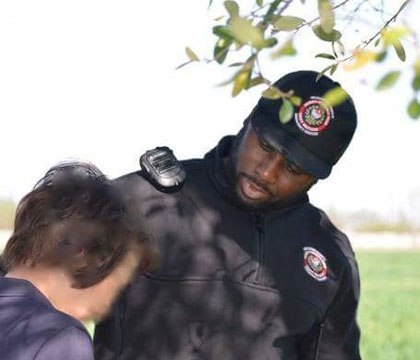 How the program works
M&M pairs one MOT community paramedic and one mental health specialist in an emergency response SUV with code 3 capabilities. The team self-initiates and can be requested by EMS crews.
The goal of the M&M unit is to arrive within 10 minutes of the EMS crew's arrival. During this window, EMS can identify patients who don't have a primary medical complaint that requires a trip to the ED. Once confirmed, the M&M unit then releases the EMS unit back into the system. The mental health specialist performs a mental health assessment and provides the best course of treatment.
"This can be anything from a patient staying home with a safety plan, a tele-psychiatry appointment provided by the team or direct transportation and admission to a psychiatric hospital for in-patient treatment," Lahr noted.
Prior to initiating M&M, Lahr created a partnership with a local psychiatric hospital and wrote expanded medical protocols. The protocols allowed the MOT community paramedics to medically clear in the field by bypassing the initial EMS transport and multiple hours to days in the ED waiting for a bed at the psychiatric facility.
The M&M unit is able to identify patients who need follow-up stabilization and enroll the patients directly into the MOT community paramedic program for continued wrap-around care.
M&M program successes
The initial pilot program, Lahr said, was funded by the blood, sweat and tears from a small, dedicated team of MOT community paramedics and mental health specialists.
Feedback from the program has been overwhelmingly positive, Lahr said. Once word began to spread, the team started getting requests directly from fire and law enforcement.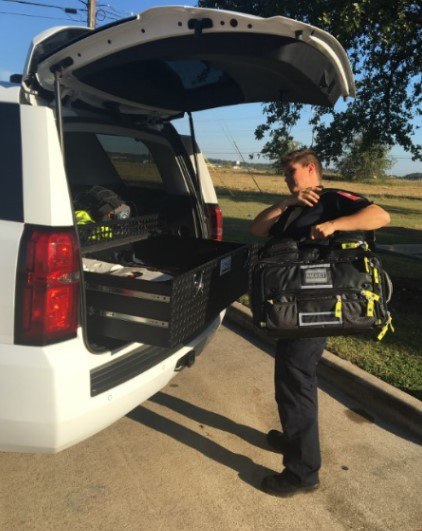 "One of the municipal fire departments were so impressed with the work M&M was doing in their community during the pilot that they requested to partner with the MOT M&M unit and have dedicated time in their city," Lahr explained.
A survey was also sent to the EMS crews that M&M responded with, and the program received a 100 percent satisfaction score during their six-month pilot.
"You guys are what have been missing in field patient care for the 20 years I've been doing this," a Williamson County paramedic said in their survey feedback.
A major success of the program, according to Lahr, was the high level of EMS, ED and jail diversion.
"This led to a huge cost savings for patients, first responders, the county and the hospitals," she said.
The unit, which has been absorbed into the MOT department, is running five days a week in partnership with a municipal fire department.
"Most importantly, in my mind, an often overlooked and under-treated demographic of the community is now getting the right help, resources and assistance they need the first time around."
The unit helps identify patients that are struggling and in crisis in the field and breaks the cycle of "EMS-ED-discharge, EMS-ED-discharge," Lahr said.
"One of our first days in the pilot, I had a patient who had been to the ED two times prior that week with the chief complaint of suicide. The patient was discharged with a follow-up with your doctor plan. The third time he called 911, M&M responded and was able to get him direct access to the correct resources and break that cycle."
M&M program roadblocks
While there have been many documentable successes of the program, there have naturally been some bumps and bruises along the way.
Staffing, Lahr mentioned, has been their biggest roadblock while implementing the program.
"MOT was a small team to begin with; staffing the pilot and continuing other current responses and duties was challenging. Creating a mutual respect for clinical judgement and a common language between community paramedics and mental health professionals was something that was necessary."
Funding was also a sore spot for the program, but Lahr said it has finally fallen into place.
The biggest headache, however, was charting and data tracking.
"We were charting in three different software platforms due to having a full mental health chart, a full EMS chart and follow-up care in our MOT program. This was a lot of extra work and quite maddening for data tracking."
Every new program, Lahr said, comes with challenges and roadblocks. However, she said what keeps her going is the supportive nature of community partners, as well as her community paramedics and metal health specialists.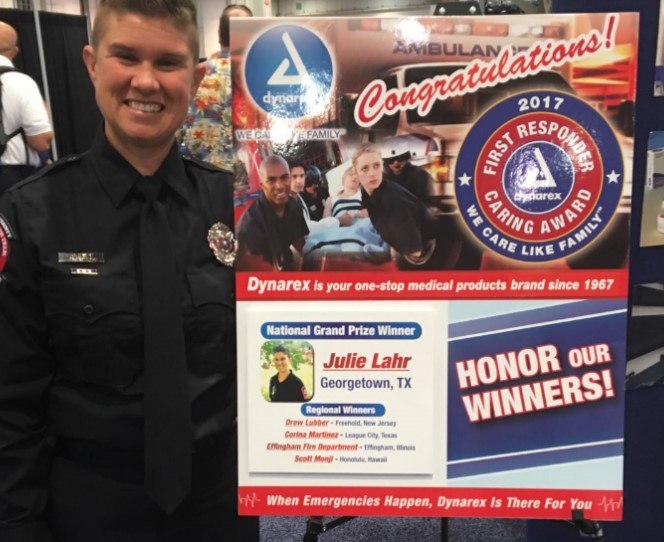 Positive feedback
The program, Lahr said, has been powerful in more ways than one.
"It has been pretty magical working alongside each other as a more intimate, succinct team responding in the 911 system.
I have been in awe of the way the mental health specialists have been able to command a scene, connect and diffuse patients that were about to get ketamine … or the compassion in which they can sit with an actively suicidal patient and spend the time needed to inspire that one glimmer of hope that's needed for the patient to agree to go directly to an in-patient facility for help."
In turn, Lahr has received a lot of feedback from the mental health specialists. "They say that they felt so much more at ease having a community paramedic at their side to rule out any number of medical possibilities, allowing them to really focus on a mental health evaluation and best course of action."
For Lahr, it has been powerful to have "such different pairs of glasses to look through with one common goal."
Data, data and more data
Departments looking to incorporate or start a similar program at their agency or department must be data-driven, Lahr explained.
"Identify how many calls in the system are not suited for an ED or don't need an EMS unit," she said. "Figure out what kind of calls those are and then who would be best suited to respond to them."
Lahr also said that it's vital for departments or agencies to spend time researching behavioral health resources in their area or jurisdiction.
"Talk to them, ride out with them, shadow them; get a true understanding of how they work and how they could potentially fit into the program you're trying to solve," she advised.
And candy doesn't hurt when it comes to launching collaborations. "We named our unit M&M; and yes, we took M&Ms everywhere," Lahr said.
Another piece of advice from Lahr: don't be afraid to start small. "Whatever amount of work you can do, do it really well." M&M, she said, started with one 12-hour day a week.
"Work hard to find providers that are willing to get out of their comfort zone and do something different. Put them all in a room and let them duke it out; then create something positive and powerful," she advised.
At the end of the day, Lahr said it's important to also know your boundaries.
"Our team wanted to help with everyone and everything that wasn't a medical call that didn't need to go to the ED. We quickly realized while we can help with a lot; we cannot help with everything."
When starting a program, Lahr said tracking data is king. "Data, data, data. Did I say data? Get the numbers, put dollar signs on it and get that info out with a megaphone."
And when numbers start to overwhelm or take precedence, Lahr said it's important for agencies or departments to remember about the human component of responders.
"This line of work is not like field paramedic work. It's a very different animal to some degree; it taxes providers mentally and emotionally."
She recommended that EMS leaders be proactive with their teams by having debriefing support and check-ins. "Learn about self-care and promote the heck out of it. When every call you run is heavy and can be quite dark, there needs to be a strong support in place."
At the end of the day, Lahr said she hopes to see some sort of alternate destination response become more commonplace in EMS.
"EMS is exceptional at cardiac arrests, strokes and diabetic emergencies … sadly, those end up being a smaller population of the calls. As first responders, I think we have room for improvement on many of the other calls, such as suicide, anxiety, psychosis … even the 'I don't feel good' for the third time in a day calls."
Lahr's main goal is to put together curriculum for a mental health paramedic specialty – similar to a critical care or tactical paramedic.
"I would love to see more M&M response models in communities. Mental health is something the general paramedic curriculum doesn't prepare providers for, for the amount of mental health we respond to in the field. The world is changing; the amount of violence in our society that comes from isolation, depression and any number of imbalances is acutely tangible and out in the open in our faces."
For departments or agencies implementing or starting a similar program, Lahr hopes to also see more first responders becoming problem-solvers. "We need to dig deeper into our roles in the community and find ways to provide preventive interventions we could all embrace."