NY limits free naloxone kit distribution
The state, who pays for the $70 kits, will now only hand them out to people most likely to find an overdose victim
---
By Amy Neff Roth
Observer-Dispatch
ALBANY, N.Y.  — Not everyone attending a training in administering naloxone, the medication that can reverse an opioid overdose, by a local agency will get a free naloxone kit anymore.
Instead, the free kits—for which the state pays $70—will go to those most likely to find an overdose victim. Others can go to any participating pharmacy—2,000 in the state including 26 in Oneida County—and purchase a naloxone kit under a standing order, meaning no prescription is needed. The person's health plan would pay for the kit and the state would cover any copayment up to $40 through its Naloxone Co-Payment Assistance Program.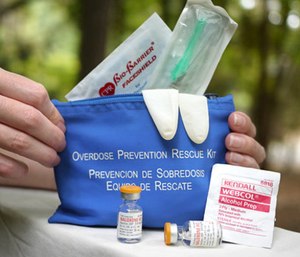 "It basically shifts the bulk of the cost from the state to the insurance companies," said Kevin Donovan, overdose prevention coordinator for ACR Health, which runs naloxone trainings.
The naloxone in a lot of the kits that have been handed out for free has expired before it was needed, he pointed out. The state is trying to get more naloxone to the people for whom it will do most good.
At ACR Health, the state's new priorities mean that free naloxone kits will be given first to people enrolled in the agency's syringe exchange program, then to friends and family members of people using opioids, and to first responders, Donovan said. He also would give kits to people without health insurance or with high deductible plans that wouldn't help to cover the cost of the kit in a pharmacy, he said.
ACR Health recommends that any business that serves the public in any way have employees go through the training, Donovan said. In such a case, ACR Health might give the business one kit or one for each floor, but every employee is unlikely to need a kit, he said.
"New York state continues to take aggressive steps to combat the heroin and opioid epidemic, and expanding access to naloxone is part of that approach," said spokeswoman Jill Montag. "The governor's executive budget includes an opioid surcharge that would fund an expansion of prevention, treatment and recovery services across New York state with the goal of cutting opioid-related deaths in half by 2021."
Copyright 2018 Observer-Dispatch