Md. county trains public to administer Narcan
Adults can receive free training, certification and a prescription for naloxone in two-hour training sessions
---
By Meredith Newman
The Capital
ANNAPOLIS, Md. — Sandy Smolnicky might not look like a person who would attend class about opioid overdoses, let alone someone who helps teach it.
Smolnicky, a woman who wears pearls, might not look like someone who carries seven kits of Naloxone in her red Coach purse. Or that her two children are active heroin users — one of which entered rehab for the third time Tuesday.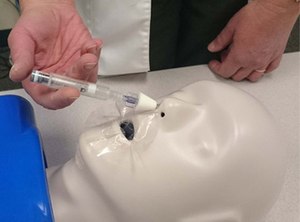 Smolnicky, a prevention specialist with the Anne Arundel County Health Department, helps teach the county's Opioid Overdose Response Training class.
"You can all save a life," she said to Tuesday's class.
Since January 2015, the county's health department has offered free classes for residents to be trained and certified to administer Naloxone, commonly known as Narcan. The prescription nasal spray can immediately reverse the side effects of an opioid overdose.
The training is for everyone, from recovering users and their loved ones to social workers and nurses.
In less than two years, the county has trained more than 500 people to administer Narcan. The class has become a way to teach residents about opioids and addiction, but also serves as a resource for drug users in recovery and their family members.
The classes are held at the county's Behavioral Health Building, 122 North Langley Road in Glen Burnie, or at Health Services Building, 3 Harry S. Truman Parkway in Annapolis.
The county has seen significant growth in heroin-related overdose deaths in recent years. Between 2010 and 2013, the number rose by 95 percent. And in 2014, Anne Arundel County ranked the third-highest in the state in the number of deaths due to opioid misuse.
The state's Department of Health and Mental Hygiene released data in June, which showed the county had the largest increase of drug and alcohol overdose deaths within the first quarter of 2016.
There were 383 overdose fatalities in the state within the first three months of the year. Forty-five of those were reported in Anne Arundel. Within that same period in 2015, the data showed 27 deaths.
Last year, County Executive Steve Schuh declared a public health emergency in the county and told county agencies to shift resources to fight heroin use.
In early August, Gov. Larry Hogan announced $3 million in state grants will go to fighting the heroin epidemic in Maryland.
The county is hosting a candlelight vigil Wednesday as part of International Overdose Awareness Day. The vigil begins at 7:45 p.m. at Arundel Christian Church, 710 Aquahart Road in Glen Burnie.
More than 580 residents have been trained to administer Narcan, said Stephanie Kerr, a nurse who teaches the class. The county has also trained police officers and inmates at the Ordnance Road Correctional Facility in Glen Burnie.
The class is typically an hour long. Attendants aren't required to take any tests, just pay attention to the PowerPoint presentation, which explains what opioids are, what to do if someone is overdosing and how to administer the nasal spray.
The instructors give tips on how to deal with the drug users after using Narcan. They quickly talk over the slides that include photos of drugs because they don't want to create a trigger. And they'll answer almost any addiction-related question.
At the end of the class, they're given the Narcan kit, which includes the nasal spray and instructions.
The class allows participants to share their experiences. One woman sent her daughter to rehab for the first time. A recovering user revealed the secret places where she would get high.
Smolnicky was open about the role heroin played in her life. After she spoke, a handful of people in the class wiped tears from their eyes and thanked her.
"I can hear in your voice your sadness," attendee Adam Gettinger-Brizuela said to Smolnicky. "And that made your message that much stronger."
For those in recovery, like Gettinger-Brizuela, 59, the class had a much deeper importance. About 18 years ago, Gettinger-Brizuela had a severe heroin overdose and was given Narcan by paramedics.
Now, the Bowie resident is taking the class because he has a friend in the beginning stages of recovery and wants to have the medicine on hand at all times.
While he's glad there's more awareness when it comes to drug use, Gettinger-Brizuela said he's observed some political undertones.
Poor people, specifically people of color, have been overdosing from heroin for decades, although not as much, he said. But now, with heroin addiction affecting more affluent young people, who are predominantly white, it seems more attention is being paid, he said.
"It's a shame that so many died for years," he said.
In February, The Capital reported that when analyzing data from January 2014 to June 2015, all but one person who died of an opioid overdose in Annapolis or in the county was white, when race was indicated in police records.
The typical overdose victim is a white man in his 20s or 30s, who lives in Glen Burnie, Pasadena or Brooklyn Park. About half of heroin-related deaths were in those three suburbs.
Nicole Lorence, 27, plans to carry Narcan with her. Lorence, who is staying at Serenity Sistas', a recovery house in Annapolis, has previously relapsed three times and faced a life-threatening overdose.
Before the class, Lorence said she didn't know about the state's Good Samaritan Law, which states that if you help someone in a drug- or alcohol-related medical emergency, you and the person helped won't face criminal prosecution.
"I would never resist helping someone, but I think a lot of (drug users) would," she said.
One of the biggest problems in Maryland is how easy it is to get drugs, said Kevin Harrison, 58 of Glen Burnie. It's a quick drive from Brooklyn Park to Baltimore, which was at one time seen as the country's heroin capital, he said.
Harrison celebrated his 20th year of sobriety in December. He spent several decades doing drugs, running from the police and being homeless. But now he's a homeowner who works at a local clinic that specializes in substance abuse.
He took the class because he's working on a certification to help others in recovery.
"To go from being a taker to being a giver, and to look at me know," Harrison said. "If I can help in a small way, I will."
For more information on upcoming classes, go to aahealth.org.
Copyright 2016 The Capital