Report details communications breakdown in death of Fla. 10K runner
The fire department report said first responders scrambled to find the collapsed runner on a crowded bridge without adequate maps or information
---
Jamal Thalji
Tampa Bay Times, St. Petersburg, Fla.
ST. PETERSBURG, Fla. — When Justin Doyle collapsed during the Skyway 10K within sight of two emergency vehicles, onlookers were horrified. They said neither crew, stationed on the Sunshine Skyway Bridge during the race, rushed over to help. The 48-year-old later died that March 1 day.
Why, bystanders complained on Facebook, didn't first-responders help Doyle?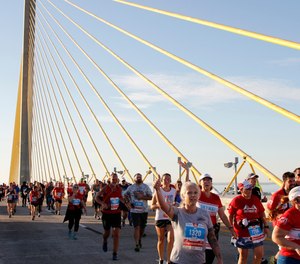 A St. Petersburg Fire Rescue report lays out the myriad things that went wrong that day, delaying the medical help Doyle needed. Rescuers did try to help Doyle, the post incident analysis said, but were thwarted by poor communication, inadequate maps and other breakdowns.
The report paints a picture of first-responders scrambling to find Doyle. Firefighters and police officers exchanged dozens of radio transmissions trying to pinpoint his location. Yet there was also a lack of information being exchanged between them, their on-scene commanders and the 911 call center.
First-responders were slowed by different reports of his location, inadequate mapping and the crowd of runners filling the bridge.
At one point, on-scene commanders thought there were two patients, not one.
And there was this problem: The supervisors at Pinellas County's 911 Communications Center that morning didn't know the Skyway 10K was being held when racers started calling for help from the bridge.
"The (report) did not identify a singular and simultaneous system or process failure, but rather a series of initial process breakdowns that impacted subsequent response decisions," said St. Petersburg Fire Rescue Division Chief Ian Womack, who oversees emergency medical services, in a statement to the Tampa Bay Times.
Justin Doyle grew up in the United Kingdom. In 2012 he moved to Tampa Bay to work with his brother, Lea Doyle, who runs the Horse and Jockey pub in South Pasadena. He left behind a wife, brother, sister, two parents and three step-grandchildren.
Lea Doyle told the Times he has read the report but declined to comment.
Witnesses said Justin Doyle collapsed between two emergency vehicles on the northbound span. Elizabeth Wulff told the Tampa Bay Times that she and other runners tried to flag down each crew — a private Sunstar Paramedics ambulance and a St. Petersburg Fire Rescue vehicle — to get their help. Those crews believed other units had been sent to help, officials later said, and could not leave their posts.
"It was very, very frustrating, standing there, doing everything we could to flag down these vehicles that were in our eyesight," Wulff told the Times last month.
However, the report says those emergency crews did try to find the fallen runner, but couldn't: "The patient was likely located anywhere between 500 to 600 yards from either (emergency medical services) unit. At this distance, is was impossible for either unit to get a visual on the patient's location from their positions." Other emergency personnel also looked for Doyle, the report said.
About nine minutes after calling for help, frustrated bystanders said they decided to get Doyle off the bridge themselves by carrying him onto a school bus used to transport runners.
The first call to 911 was made at 7:46 a.m. The report included a log of all the radio calls between firefighters, law enforcement officers and ambulance operators trying to find Doyle, then tracking down the bus that carried him.
Paramedics radioed in at 8:08 a.m. that they were with the patient, who the bus had taken to Blackthorn Memorial Park on the St. Petersburg end of the Skyway.
It took 22 minutes, 8 seconds for medical help to reach Doyle, the report said. He was taken to a hospital, where he was later pronounced dead.
"The (report) found the most significant factor to be pertinent location information not being provided or accurately relayed to command," Womack said in a statement. "The (report) determined that more detailed event maps would have improved command's ability to locate the patient. (Emergency medical services) earnestly worked to locate the patient based on the information it had. Placing the patient on a bus further challenged these efforts."
Here are some other issues and potential solutions recommended by the report:
There was no dedicated lane for emergency vehicles, only one for the buses that carried runners. But that lane was congested and had a strict speed limit, and taking away another lane would restrict the number of runners. The report recommended staggering the bus schedule and creating gaps for emergency vehicles to operate.
"Box" style ambulances struggled to maneuver on the crowded bridge. The report recommends using all-terrain rescue vehicles to get around the bridge faster. It says "unconventional" or nimbler units, such as paramedics on bikes, could be used to reach patients. A St. Petersburg motorcycle police officer, for example, was able to reach Doyle on the bridge.
Lay out a clear way for race personnel and first-responders to communicate and let the volunteers know where all the emergency vehicles are located. Bus drivers should also be included in the communications plan, because emergency crews were delayed further trying to find the bus moving Doyle.
Doyle collapsed near the race's 5-mile marker. But officials said rescuers were sent to the bridge's 5-mile marker. The official race map should clearly mark all landmarks such as police and medical units and both sets of mile markers. Each first-responder should also have "more clearly defined areas" to cover, the report said, so there's no confusion as to who is responsible for emergencies in their areas.
———
©2020 the Tampa Bay Times (St. Petersburg, Fla.)
McClatchy-Tribune News Service