Consolidating Ind. county 911 dispatch center proves difficult amidst increased operational costs
Since the county went from four 911 centers to one, costs have increased, staff have unionized and technology is blamed for dispatch delays
---
By Caleb Bauer
South Bend Tribune, Ind.
ST. JOSEPH COUNTY, Ind. — The ongoing debate over how to fund St. Joseph County's consolidated 911 dispatch center is just the latest chapter in a saga of rising costs, technical problems and staffing shortages there.
Since the county went from four 911 centers to one in 2015, costs have increased, staff unionized to protest working conditions, technology has been blamed for dispatch delays, and two executive directors have resigned.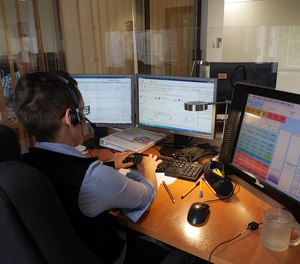 When the agreement to consolidate was finalized in 2014, it was estimated to have a $3.9 million annual operating cost, not including state 911 money that has been about $1.8 million annually, with 60 employees. The disbursement for that first year of operation ended up being $4.2 million. Since then, those figures have increased to $8.2 million and 73, respectively.
That initial agreement was formed at the eleventh hour before a state-mandated deadline, which required each county in the state to consolidate to no more than two dispatches.
That last-minute scramble to negotiate a deal resulted in a split funding model for the 911 center shared between Mishawaka, South Bend and St. Joseph County, based on call volume and net assessed value.
Initially, St. Joseph County was expected to pay $1.7 million, South Bend $1.4 million and Mishawaka $700,000.
But for next year under the current model, the costs would balloon to $4.2 million for the county, $3 million for South Bend and $1.5 million for Mishawaka.
Though county officials feel costs have steadied and operations are on the right track, they say rising expenses require a new funding plan.
Costs doubled
The doubling of costs to operate the center are the result of "woefully underestimating" staffing needs there, according to county Commissioner Andy Kostielney, one of the three members of the 911 center's executive board.
In 2014, when the initial deal was made to set up the center, county council members expressed reservations with the last-minute decision necessitated by the state-mandated deadline.
"It's unfortunate it didn't come to us sooner," County Council member Mark Catanzarite said in 2014 according to meeting minutes. "We knew the law got passed in Indiana four or five years ago, it just took us a while to get going to actually put it together."
As a result, council member Diana Hess said in 2014 that the county "did not have adequate time to make proper decisions."
That deal, Kostielney said, assumed a local contribution well below where costs have ballooned to now.
"We were geared toward that initial funding amount," Kostielney said. "As costs increased we kind of hit the breaking point. I think we've got costs contained much better. The reason the cost had grown was because [the 911 center] was understaffed."
Those staffing shortages led to delayed dispatches, mandatory overtime, high turnover among staff and other operational issues. In 2015, police union leaders in South Bend and Mishawaka complained about dispatching issues and members of the South Bend Common Council sent a letter expressing concern to Mayor Pete Buttigieg.
"Definitely the initial staffing was underestimated," County Commissioner Dave Thomas said. "People were having to work overtime, couldn't eat lunch and were just being worn down."
The embattled first director of the center, Todd Geers, resigned from the job after 15 months when the dispatchers voted overwhelmingly to unionize and join the American Federation of State, County and Municipal Employees union.
The second executive director, Brent Croymans, stepped down in 2017 after his requests for additional staff weren't approved by the center's executive board and 911 calls were going unanswered because of severe staffing shortages.
A new automated dispatch system was implemented in 2017 that also lead to dispatch delays and wrong addresses being sent to first responders. The system, provided by New World, a subsidiary of Tyler Technologies, was criticized by county officials as the cause of the problems.
Earlier this year, county commissioners approved a deal with Motorola for a new system to replace the Tyler Technologies one.
Ray Schultz, executive director of the 911 center, said he couldn't discuss issues regarding the Tyler Technologies system because of a legal separation agreement. A copy of that agreement shows the county will save on having to pay a maintenance fee for the system next year, but also precludes officials from talking to members of the media about the Tyler Technologies agreements.
Schultz did say the timeline for implementing the new Motorola system is ahead of schedule and is expected to be funded through the center's reserve funds as opposed to annual operating expenses.
Staff has grown from 60 in 2015 to 73 now. Schultz hopes to add three more dispatchers to help eliminate overtime when others take vacation.
Schultz also said delayed and missed calls are a thing of the past.
"We're answering 100% of our calls in 40 seconds or less," Schultz said, adding that 95% of 911 calls in July were answered in 10 seconds or less.
A new way of paying
Kostieleny and Mishawaka Mayor Dave Wood, part of the three-member executive board for the center, proposed in August a carve-out of the existing income tax revenue that goes to different entities. Buttigieg, who is running for president of the United States, is the third member of the board and wasn't at the meeting.
That carve-out would've seen townships, libraries, towns, Transpo and the airport lose out on income tax money expected for 2020.
That plan was criticized by township trustees and library leaders as lacking transparency and failing to include different entities in the conversation.
Ultimately, protests by library supporters and an outpouring of opposition against the proposal led the county council to table it last week.
But by delaying a decision on that proposal, which wouldn't have raised income taxes, the county council is now also considering raising income taxes by .12% or raising taxes while also carving out a smaller portion of existing income taxes to fund the center, according to county financial consultant Steve Dalton.
The deadline to make tax changes that will go into effect for 2020 is the end of October, leaving the county council one more meeting to make a decision or punt the funding changes to next year. Any changes would also have to receive approval from either the Mishawaka Common Council or South Bend Common Council, according to Indiana income tax regulations.
South Bend Mayor's office spokesman Mark Bode said the current funding mechanism is "workable for the short term but we will need to improve it for the future."
"Our priorities are to sustainably fund the PSAP," Bode said, "and to ensure that the cost is shared fairly among all of the communities it serves."
———
©2019 the South Bend Tribune (South Bend, Ind.)
McClatchy-Tribune News Service