What is EMS: A Definition
Learn the role emergency responders play in treating and transporting patients who call 911 for help
---
This article was orginially posted on Mar. 6, 2011. It has been updated with new information.
EMS is the acronym for emergency medical services. This term refers to the medical professionals who respond to 911 calls and treat and transport people in crisis health situations. Emergency medical responders encounter a wide variety of patients in life-threatening situations, from car accidents, to drownings, to incidents of cardiac arrest, stroke, overdose, trauma and mass casualty incidents.
EMS units work for private, hospital-based, municipality and fire department agencies, operating out of ambulances. Oftentimes, emergency medical services providers stage in places where the risk of an accident or health crises is high, such as ski areas, professional sports events and dangerous job sites, like offshore oil rigs.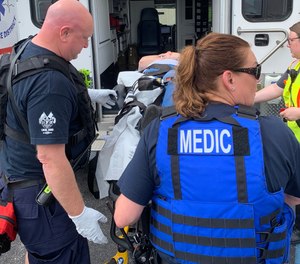 Emergency medical techicians: what do EMTs do?
EMS is staffed by trained medical professionals, called EMTs, or emergency medical technicians. There are several different levels of EMT, depending on the location, including:
EMT-Basic
EMT-Intermediate
EMT Paramedic
A-EMT
There are many requirements to be an EMT. An EMT basic is the most elementary level of EMT training, but it allows the practitioner to do important life saving functions, such as stop the bleed, treating burns, performing CPR and stabilizing spine and neck fractures and broken bones. Becoming an EMT Basic requires specialized training in basic life support (BLS), which takes an average of about six months to complete.
EMS is also employed to transport patients in non-emergency situations when the patient needs critical care while moving from one medical facility to the next. In these cases, a trained EMT, doctor, or nurse administers medical care involving things like IV pump infusion maintenance, ventilator management, aortic balloon pump monitoring, cardiac monitoring and other critical functions.
What do Paramedics do?
EMS also employs paramedics who have advanced life support (ALS) training. Paramedic training involves rigorous schooling, which takes about two years to complete, depending on state requirements. A paramedic's scope of treatment includes performing life saving procedures, such as endotracheal intubation and IV support, as well as the BLS functions performed by a basic EMT. All levels of EMTs must be certified at the state level.
The rules of EMS operations vary widely according the state in which they're located. There are privately operated units and publicly operated agencies. There are also volunteer EMS units, especially in rural areas where the local government can't afford to operate these types of services. 
Ambulances are the most common purveyors of Emergency Medical Service operations. Federal regulations stipulate that ambulances be staffed with two workers with a minimum of Basic Life Support training. The most common staffing is with one basic EMT and one paramedic. Occasionally, a unit is staffed with more than one paramedic.
What does a flight paramedic do?
There are also airborne EMS operations which respond to medical emergencies via helicopters staffed by a combination of flight medics, EMTs, doctors and nurses. These services can be run by hospitals or government entities at the federal, state and local levels.
Fire departments, State Police and the National Park Service run airborne Emergency Medical Service operations. They respond to medical emergencies such as car accidents with serious injuries, wilderness rescues, airplane crashes and other situations where using airborne transportation can mean the difference between life and death.
Community paramedicine/mobile integrated healthcare
Community paramedicine and mobile-integrated health care programs seek to reduce non-emergent EMS transport to hospitals, lowering hospital admissions and readmissions, and providing more appropriate medical resources for community members in need. 
Community paramedicine programs assists in clinical care coordination between patients and providers; and provide medication inventory and compliance; community resource navigation; and home safety checks, such as fall risk assessments and post-discharge education.
Mobile integrated healthcare programs can also help connect patients at risk of being admitted to the hospital, such as the elderly, those with comorbidities and chronic health conditions, and those who have suffered an opioid overdose. 
EMS are important players in maintaining the health and safety of our communities.
Read next: How to increase your EMT salary
Additional EMS resources 
What do EMTs do? Understand what is EMS with these resources: