How to increase your EMT salary
EMS salaries aren't set in stone. Here's how to make more money.
---
This article was originally posted on Oct. 5, 2016. It has been updated with new information.
The rumors are true: an EMT salary isn't going to buy you a mansion and a Mercedes. But you're a trained professional in a high-stress job. You handle critical life and death issues on a daily, if not hourly, basis, and you'd like to be compensated at the highest level. Who can blame you?
According to the U.S. Department of Labor's Bureau of Labor Statistics, the median emergency medical services salary was $34,320 per year, or about $16.50 per hour in 2018. The lowest 10 percent earned less than $22,760, and the highest 10 percent earned more than $58,640.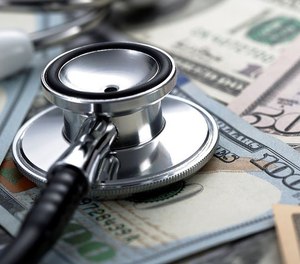 EMT and paramedic salaries have increased across the board since 2012, but there are some proven ways you can maximize your salary. Download our infographic to share with your colleagues. 
Overtime and side jobs for EMTs
About one in three EMTs reported working more than 40 hours per week in 2016. The exact policies differ between agencies, but most employees earn 1.5 times their usual rate for every hour over 40 hours.
Don't underestimate how much this is. At least one paramedic doubled her salary by taking overtime shifts, and another paramedic made more money than the mayor of Baltimore by staying on the clock.
Many EMTs, especially those with families, also maintain second jobs to make ends meet. It's possible to work standby on events for extra cash, but teaching, security and personal training are some examples of popular EMT side jobs. 
The Internet has also opened up a lot of opportunities to make money: think about wholesaling on Amazon, picking up work contracts or starting your own blog/vlog.
States with the highest-paid EMTs
EMT salary ranges depend largely on the state in which you're working. If you're unhappy with your current department or how much money you're making, you must be willing to move.
Of the top 10 cities with the highest EMT salaries, five are located in Washington State. First responders can make a lot of money working on the West Coast, but that may be offset by the higher costs of living.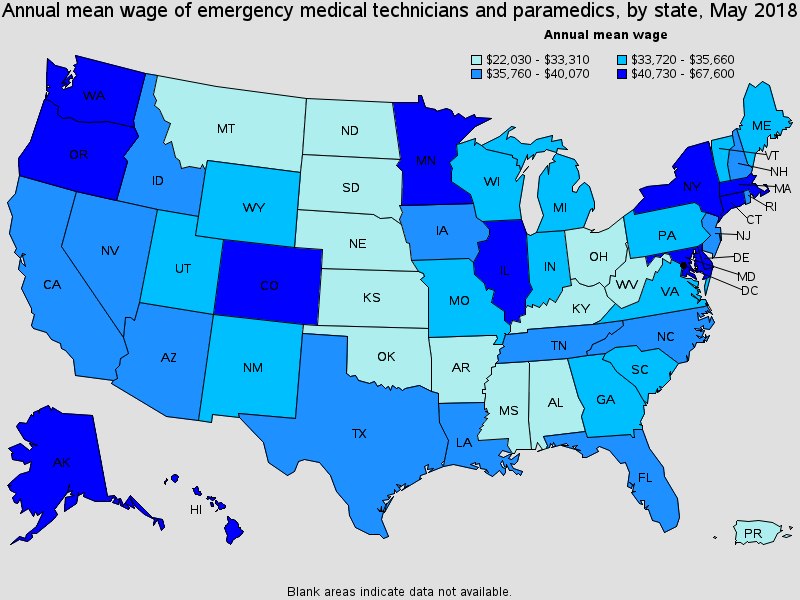 Continue your EMS education to make more money
Another factor in EMT salary levels is your level of training and professional designation. Training requirements and designations vary from state to state, but generally they are EMT, AEMT, and paramedic, with the latter being the highest level of EMS training.
Since an EMT can earn from $33,000 to $51,000 a year and a paramedic can earn anywhere from $40,000 to $70,000 a year, increasing your training and designation is one way to earn more money.
The transition from an EMT and a paramedic usually requires an additional one to two years of training, depending on your state's licensing requirements.
Research the type of EMS agency you want to work for
Another consideration in gauging EMT salary rates is the agency you work for.
In May 2018, the median annual wages for EMTs and paramedics in the top industries in which they worked were:
Hospitals; state, local, and private: $36,650
Local government, excluding education and hospitals: $36,450
Ambulance services $31,590
Private ambulance companies generally have the lowest rates of pay, but may be more likely to hire newer or less experienced employees. Many EMTs start with private companies to get their feet wet.
Government agencies, such as fire departments and state ambulance services, generally pay more, but they're more competitive to get into and may have higher education requirements. Some state police departments and the National Park Service staff also employ EMTs to respond to emergency medical situations.
Hospitals employ EMS providers to transport patients when they require critical care, such as IV pump infusions and ventilator management, while moving from one medical facility to the next. They also sometimes use EMTs in place of nurses.
Although an EMT salary isn't going to make you rich, as an emergency health care professional, you do have the satisfaction of knowing that the service you're providing is vital to the health and safety of your community.
Infographic: How to increase your EMT salary