AMR trains 67,000 civilians in compression-only CPR in 24 hours
During the 3rd annual World CPR challenge, AMR personnel at 70 locations beat their previous record by more than 5,000 participants
---
GREENWOOD Village, Colo. — A total of 67,407 civilians learned compression-only CPR from American Medical Response (AMR) personnel at 70 operational locations during the 3rd World CPR Challenge on Wednesday, May 20.
AMR teams had one mission at hundreds of events: to teach people how to save a life by learning compression-only CPR. This year's effort at events large and small eclipsed the 2014 record by more than 5,000.
"No other company has taken training to this level," said AMR President and CEO Ted Van Horne. "AMR teams have trained more than 183,000 people in compression-only CPR over the three years of the event. Each year we continue to surpass our previous year's tally. And each year we see the results with increases in bystander CPR rates in the communities we serve."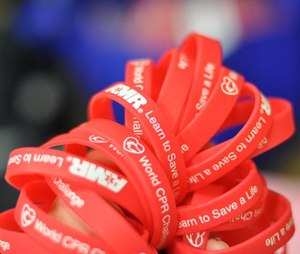 Since the first CPR Challenge in 2012, the bystander-initiated CPR rate in AMR communities has increased by more than 25 points to nearly 47.2 percent. According to the Cardiac Arrest Registry to Enhance Survival (CARES), the current national average for CPR initiated by a bystander is 41.4 percent.
"This is critically important to the communities we serve," said Dr. Ed Racht, AMR's Chief Medical Officer. "The medical literature shows that compression-only CPR is an effective and easy to administer life-saving procedure. When bystanders perform compression-only CPR until emergency responders arrive, a patient's chance of survival increases dramatically."
While the AMR CPR Challenge is a one-day event, AMR professionals teach compression-only CPR throughout the year.