First responders, surgeons amputate Iowa woman's leg, freeing her from building collapse
Rescuers worked for hours removing Quanishia White-Berry's left leg above the knee
---
By Sarah Watson
Quad City Times
DAVENPORT, Iowa — Two days after Quanishia White-Berry was rescued from the wreckage of 324 Main St., her wife, Lexus, won't leave her side at the hospital.
It took a team of first responders and surgeons hours to rescue her. Trapped beneath the wreckage of the six-floor collapsed building, rescuers on Monday amputated her left leg above the knee to free her.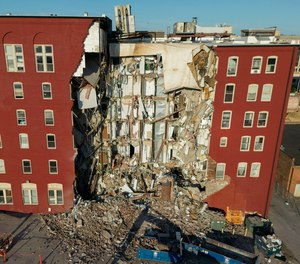 Just hours earlier — on the day parts of their apartment building buckled to the ground — Lexus and Quanishia were sitting in their fourth-floor apartment and noticed a crack above their bathroom doorway.
Lexus snapped a picture, but they both knew something was wrong. Each grabbed one of their two cats to leave, Lexus said.
Then everything fell on top of her. Lexus managed to get to the door, but Quanishia was gone.
"There was nothing left but where I was standing," Lexus told a reporter Sunday night.
She watched that night as city officials talked with the media. She urged them from the crowd to continue looking for her wife in the rubble.
In a phone interview Tuesday afternoon, Lexus said that the day of the collapse she refused to leave the perimeter of the downtown area except to change into a fresh pair of clothes friends brought for her. They took her to a nearby restaurant, but she couldn't eat.
She had to stay close in case someone contacted her with updates on her wife.
And they did.
"It was a sense of relief because I had been in the dark for so long, but I said: 'I don't feel like she's gone. I feel like she's just trapped somewhere. I know she's just trapped. She's going to hang on,' " Lexus said.
She was taken to an access door, where rescuers had entered the building. A blur of doctors, engineers and first responders introduced themselves and gave her updates on Quanishia. They said her wife was conscious throughout the ordeal.
"And she asked, wondering if I was OK," Lexus said. "The fact that she's trapped and asked if I'm OK, that's her character."
Then, like a game of telephone, first responders reported progress back to Lexus, she said.
"Every time they got any type of new activity, they'd come to tell me that: 'OK, we're getting closer and closer. We're moving stuff,'" Lexus said. " 'OK can't get her now; OK we're almost there.'"
But because she was pinned by debris, rescuers told Lexus they'd have to perform an on-site amputation.
"There was a lot of debris and things surrounding her and her legs were pinned down," Lexus said. "They were able to get one leg out, but the other leg in order to get her out, they had to amputate it."
They first allowed Lexus a chance to see her wife.
"They gave me literally just a minute, if not 40 seconds," she said. "They gave me a hard hat, and there were about three or four of them that walked me into the building."
She said the building was dark, with barely enough of a path to walk in.
"It was a scene that I'll never forget," Lexus said. "I'll never forget that image of the way she was trapped.
"I just got to say, 'I love you, you're OK, you got this. Don't worry.' "
She was escorted back out of the building before the amputation, but she saw medical personnel administer pain-numbing medication on site.
Then she was in an ambulance on the way to the hospital. Lexus was close behind.
Quanishia remained hospitalized and heavily sedated on Tuesday, Lexus said. A ventilator is helping her breathe and other tubes connect her body to machines and liquids.
She said doctors were going day by day. They're still assessing whether she will need more surgeries or other treatments.
On Tuesday, Lexus was feeling numb, she said, as she tried to process what happened and plan for the next days and months of recovery.
"I have to be strong for her. I can't think, 'Why did this happen?' I can't go into depression," she said. "I just have to be strong for both of us and move forward for both of us and just know that she is going to be OK — she is going to heal — and manifest that for her.
"I know how strong she is, because she was down there for over seven hours and she survived, so she can survive anything," Lexus said. "It's just the feeling of knowing that she's hurt, hurts me. I hate to see her in pain. It's really hard to see her in the state that she is."
Lexus gushed about her wife.
"We call her 'Peach' because she's sweet. She puts other people before herself. She takes care of me. If I'm sick or if I can't take care of myself, she literally nurses me back to health. To be able to do that for her is very important."
She's thinking about what their future lives will look like.
Lexus is looking for a new apartment for them. A friend set up a GoFundMe to help with their expenses, as Quanishia won't be able to work and Lexus plans to care for her.
She wants to look for a one-story or small two-story house where Quanishia can recover on one level, without stairs.
Lexus expressed some frustration with the city's response to the collapse and their rescue efforts. By the city's count, crews rescued seven people in the first hour of the collapse. Then, crews extracted Quanishia from the rubble. Monday morning, officials said they had no evidence of people in the building and switched from rescue to recovery mode. But hours later another woman was found and rescued from a fourth-story window. Now, city officials say at least five people are unaccounted for with two likely in the building.
"The people that are having press conferences, the mayor — they're not telling the full story," she said.
Greater frustration lies with the apartment owner. Lexus said she's had no direct contact from the building owner or property manager.
But Lexus said she's thankful for the medical team and doctors and nurses who are keeping her wife alive.
"I want people to know that life is the best gift that can be gifted to you," she said.
If you're a former tenant of the building who needs help:
The Red Cross has set up a new location at 1111 W. Kimberly Road in Davenport, the former Select Specialty Hospital location.
Beginning on Wednesday at noon, those impacted by the building collapse or evacuation order can go to this new location for information, a place to stay, meals, phone charging stations, health and mental health services, and one-on-one support, according to a release.
The 24/7 hotline is 800-RED-CROSS.
(c)2023 Quad City Times, Davenport, Iowa
Visit Quad City Times, Davenport, Iowa at http://www.qctimes.com
Distributed by Tribune Content Agency, LLC.
McClatchy-Tribune News Service