Clinical scenario: Patient with a traumatic amputation
You are dispatched to a factory for a report of a man with his arm caught in a hydraulic press
---
Medic 7, respond Priority 1 with Engine 4 to 8450 Southern Terrace. The caller is reporting a worker who has an arm injury from an industrial accident.
You arrive in front of a factory where metal car parts are stamped and the foreman leads you into a work area. The foreman tells you that the factory's third shift just started when the accident occurred.
The engine crew arrived on scene shortly before you and they have successfully extricated the patient from the hydraulic press. Prior to removing him, they placed a commercial tourniquet around his arm and bleeding is currently minimal.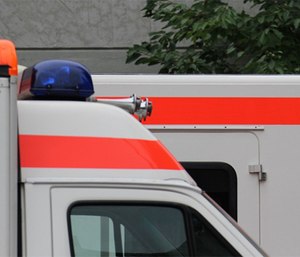 The engine captain introduces the patient as Steven. He has been working at this factory for some time and when he tried to remove an extra piece of metal from the press his arm was caught and crushed.
Your primary assessment reveals that Steven is conscious and alert with a patent airway and adequate — though rapid — breathing. Steven has a strong radial pulse in his left arm, but his right arm has been severed around the middle of the forearm. The fire department reports that the amputated portion of the arm is not salvageable. Steven's bleeding is controlled now.
Vital signs are:
BP: 100/66
HR: 128
RR: 24
SpO2: 97 percent
Your service area has a level III trauma center 15 minutes away and a level I trauma center 35 minutes away.
Now that you have completed your primary assessment, you must decide what Steven's transport priority should be. In considering that, think about the following questions:
What is your initial impression of Steven's presentation?
Is the care which has been provided so far adequate?
What are the risks and benefits of transporting Steven with lights and sirens?
Post your answers in the comments and view the solution for this scenario.