Pittsburgh paramedics honored for heroics in 2018 synagogue shooting
"It's one of the darkest hours our city has ever had to go through," Mayor Bill Peduto said. "Because of you, there were rays of light that came out of that darkness"
---
Megan Guza
The Tribune-Review
City and Public Safety officials honored more than a dozen EMS members for their life-saving actions during the Tree of Life synagogue mass shooting last year.
The death toll could have been higher, Mayor Bill Peduto said, if not for their actions on Oct. 27.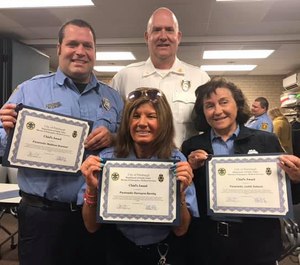 "There is no doubt that you put your own lives at risk in order to save lives," he said.
The attack on the Squirrel Hill synagogue is the deadliest anti-Semitic attack in the country's history. Eleven people were killed.
"It's one of the darkest hours our city has ever had to go through," Peduto said. "Because of you, there were rays of light that came out of that darkness."
Dr. Ronald Roth, medical director for Pittsburgh EMS, grew up attending the synagogue. He became emotional as he thanked the paramedics.
"I remember the day, standing at Solway and Murray under cover behind the ambulance there … why many of you were running toward the incident," Roth said. "I thought to myself, 'Those are some of the bravest people I know,' going into the fire while I was relatively safe behind the ambulance.
"I am honored to be your medical director," he continued, choking up. "Thank you for what you did."
Public Safety Director Wendell Hissrich told the men and women that it takes more than just training to work together in such a situation.
"The split-second decision you have to make to adapt to the situation – that really relies on your skills and your education and your experience … and what you've got through prior to be able to act accordingly and, as we all know, save lives on that day," he said.
Those who received awards are:
Aaron Byrne
Steve Whitlock
Joshua Slagel
Matt Brantner
Romanyne Bendig
Robert Johnston
Mark Tomassi
Eric Barazotto
Shawn Eigenbrode
Lawrence Turner
Tony Shrader
Dan Sprouse
Duane Lewis
Judy Sobeck
Ed Carlino
Jeff Tremel
Mark Pinchalk
Raymond Everitt
Richard Linn
Justin Sypolt
Mark Tomassi
———
©2019 The Tribune-Review (Greensburg, Pa.)
McClatchy-Tribune News Service