Ill. House passes bill aimed at boosting rural EMS recruitment
The bill would allow nurses and physician assistants to serve as volunteers and perform the same work as EMTs
---
By Laura French
SPRINGFIELD, Ill. — A bill aimed at helping rural EMS agencies recruit more volunteers passed in the Illinois House last week and will now be considered by the Senate. 
House Bill 2864, sponsored by state Rep. Dan Swanson (R-74th District), would allow nurses, physician assistants and advanced practice registered nurses with active licenses to apply to serve as volunteers and perform the same work as certified EMTs, according to a press release.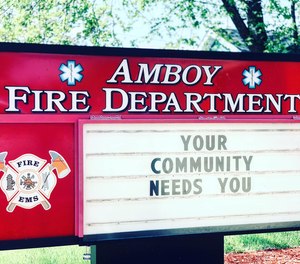 "Our rural areas often struggle with finding volunteer EMTs but may have several people in their community capable of serving in this capacity if we allow for this efficiency," Swanson said in a statement. "Once passed, it is expected this will help boost recruitment efforts for volunteer EMS agencies in Illinois." 
Swanson said the idea for the legislation came from Dahnida/Oak Run Fire District Chief Jack Johnson and Amboy Fire Protection District Chief Jeff Bryant after they were approached by community members with medical training who were interested in volunteering. 
The bill passed unanimously in the Illinois House Health Care Licenses Committee and then passed unanimously in the full House on April 22. Sen. Neil Anderson (R-36th District) will sponsor the bill in the Senate. 
"Our rural areas have special needs that require some flexibility. I am thankful my colleagues worked with me across the aisle to ensure we provide the best care possible to rural residents of our state," Swanson stated.