1 dead after semitrailer hits medic unit in Ohio
A semi driver was killed after striking a medic vehicle; two members of the medic crew and the semi passenger were treated for non-life-threatening injuries
---
DAYTON, Ohio — Two lanes of westbound I-70 were closed just before I-675  this morning after an early morning crash that killed a semi driver after he crashed into a medic unit.
The driver of the semi struck a medic unit on I-70. The semi driver was killed when he was ejected from the vehicle before it landed on him, according to Ohio State Highway Patrol Lt. Brian Aller.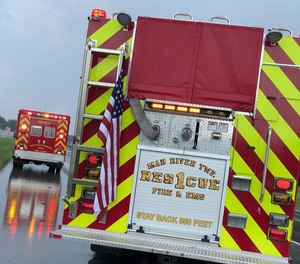 Aller said that around 1:39 a.m., Mad River Twp. dispatchers received a call reporting a single-vehicle injury crash at the 46 mile marker on westbound I-70. 
A squad of medics and one firefighter were dispatched to the scene in one vehicle, parking in front of the silver SUV. 
After the crew treated the victim of the crash and got back in the medic vehicle, around 1:57 a.m., a semi drove up the right side of the road and struck the SUV, pushing it forward into the medic vehicle.
The semi then continued off the right side of the road and flipped. The driver was ejected as the truck rolled, and was killed when it landed on top of him. 
The passenger in the semi was able to escape the truck by himself with minor injuries. The passenger, two of the Mad River Twp. crew, and the victim of the initial crash were taken to the hospital with non-life-threatening injuries.
Two of the injured people were taken to Springfield Regional Medical Center, another was taken to Miami Valley Hospital, and one more was taken to a third area hospital.
When asked what could have been done to avoid this, Aller said, "Slow down. Slow down and wear your seatbelt."
He added that people need to be mindful of the snow and ice on the roads, and be aware of emergency crews.
"We all have families," he said.
Officials are working to reconstruct the crash before the truck can be lifted and removed, a process which is likely to take around 4 hours. 
———
©2019 the Dayton Daily News (Dayton, Ohio)
McClatchy-Tribune News Service