It's a bird. It's a plane. It's a jet suit medic!
Improving tech can help get lifesaving supplies and lifesavers to patients faster than ever before
---
I am sure you've daydreamed about flying over gridlocked traffic like Iron Man or leaping Captain Marvel style into the fourth floor of an apartment building without an elevator. Your superhero future might not be too far off.  
Great North Air Ambulance Service worked with Gravity Industries to develop a paramedic jet suit. Watch this video of the jet suit medic gliding uphill, over obstacles and gently touching down at a simulated patient in a rescue exercise. You'll either have sweaty feet and palms (sympathetic stress reaction) or be typing out your employment application to be the next jet suit medic as you watch.  
Innovation and technological progress happen at a dizzying pace and COVID-19 has accelerated the development of and interest in tech that provides new healthcare models or socially distant services.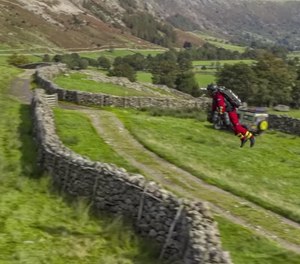 Jet suit medic  
At a price of more than $400,000, a jet suit is not likely to be parked in your apparatus bay anytime soon. But that should not keep us from considering the possibilities.  
A jet suit medic could reach a patient faster, especially in remote or austere conditions. In addition to mountain rescue, a jet suit medic could fly over flooded neighborhoods to reach patients in the aftermath of a hurricane. A jet suit medic, with other PPE, could enter a hazardous materials incident hot zone or fly over a miles-long pile up of motor vehicles on an interstate freeway. How do you imagine this George Jetson flying suit coming to real life in EMS?   
Drone to the rescue  
Jet suits might be in the distant future. It has been six years since a Netherland's designer's AED drone video went viral, but drones are EMS technology of today.  
A Florida EMS agency is finalizing a plan to fly a pilotless drone with an AED to cardiac arrest incidents in advance of ambulance arrival. The drone will use mapping software informed by light detection and ranging (LIDAR) lasers to reach its destination. Once the drone arrives with an AED, tourniquet or naloxone, the 911 dispatcher will give bystanders patient care instructions until the ambulance arrives.  
Walmart is trialing a pilotless drone to deliver COVID-19 test kits to people within one mile of two Walmart super centers in Nevada and New York. The partnership with Quest Diagnostics uses a drone to deliver a nasal swab self-collection kit and a prepaid shipping label. The touch-free test kit keeps people with COVID-19 symptoms at home, encourages social distancing and reduces use of PPE by sample collectors. I'd like to see the drone delivery include a couple of face masks, a bottle of hand sanitizer and a what to do while you are waiting for test results pamphlet.  
Doctor makes house calls 
I have requested two recent physician visits to be "house calls" and my healthcare provider has gladly obliged. In 2020, a "house call" is not an in-home visit from a physician but a telephone call. Both of my experiences have been fantastic. I never left home, I didn't have to sit in a waiting room and then wait to be seen in an exam room. Over the phone, I confirmed my identity with the nurse, reviewed my medications and allergies, and then was transferred to the physician. Both of my phone calls were quick and focused. Instead of spending 90 minutes, including travel, each visit was completed in less than 10 minutes; a timesaver for me and the clinician.  
During the COVID-19 pandemic, many people, like me, are experiencing telemedicine for the first time. These virtual visits are changing expectations of how assessment is performed and treatment plans are delivered. Telemedicine, whether a one-on-one patient-to-provider phone call or a paramedic-facilitated patient video consult with an EMS physician, is just in time to keep EMS on the forefront of new opportunities to treat in place or transport to alternative destinations.  
Innovation in medicine 
The only constant in medicine, as in life, is change. From a jet suit medic to AED delivery by drone, we are glimpsing the future, as well as how recent innovations are on the cusp of becoming mainstream. If we can leap a tall building or race a speeding train in a jet suit, we also ought to be working on adding X-ray vision to the EMS utility belt.