Seattle FD explains ambulance retreat after 2nd fatal protest zone shooting
Officials said a vehicle carrying one of the victims was "driving erratically" with someone riding on top, leading the crew to perceive the car "as a threat"
---
By Laura French
SEATTLE — After a Seattle Fire Department ambulance fled from a vehicle carrying a victim in the second fatal shooting at the city's "autonomous" protest zone, a fire department spokesperson has said the ambulance crew had perceived the vehicle "as a threat." 
The Monday morning shooting at the Capitol Hill Organized Protest, also known as CHOP, killed a 16-year-old boy and wounded a 14-year-old boy in the fourth shooting and second fatal shooting at the zone over the past two weeks, according to The Seattle Times.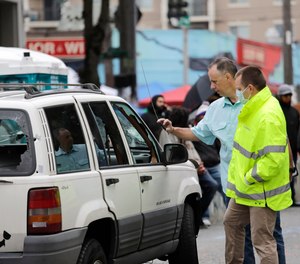 Following the first shooting in the zone, the department issued a statement explaining why they did not enter the zone and reach the patient, and announced that designated "patient collection points" would be established at the perimeter of the zone. 
After Monday's shooting, a protester told the Seattle Times he tried to drive one of the victims out of the zone to an ambulance, but that the rig drove away from him, leading several protesters to chase the ambulance on foot to its staging location. 
Seattle Fire Department Spokesperson Kristin Tinley said in an email to the Times that two ambulances had been en route to the staging location when they saw the vehicle "driving erratically towards them with someone riding on top of the vehicle. 
Tinley said the crew perceived vehicle "as a threat" and did not know that the patient was in the vehicle, and added that the area had not yet been secured by police. The ambulances continued to their staging location where crews were ultimately able to begin treating the victim. 
Seattle Councilmember Lisa Herbold, chair of the Public Safety and Human Services Committee, previously called the fire department's plan to have protesters bring patients outside of the CHOP zone "unsustainable." Most of the previous shooting victims were driven to hospitals in private vehicles. 
The fire department said in its previous statement that it lent wheeled stretchers, mega movers, fire extinguishers and basic medical supplies to volunteer medics in the zone in the hopes that those who were injured could receive faster medical treatment. 
The department also explained that its safety policies preclude personnel from responding within the zone without a police escort.