Ga. county votes to extend contract with troubled ambulance provider
The DeKalb County commission voted to extend its contract with an ambulance provider that has faced criticism for years that it responds too slowly to emergency situations
---
J.D. Capelouto
The Atlanta Journal-Constitution
ATLANTA — The DeKalb County commission voted Tuesday to extend its contract with an ambulance provider that has faced criticism for years that it responds too slowly to emergency situations.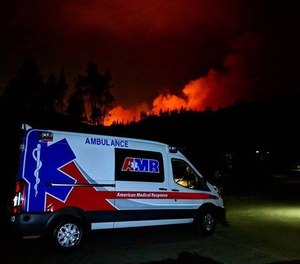 The saga over ambulance response times has been centered in Dunwoody, where some families and City Council members have criticized American Medical Response over its slow response times in life-or-death situations.
AMR has contracted with the county since 2013 and faced complaints over its service. Dunwoody officials considered pulling out of the countywide agreement with AMR and collaborating with nearby cities on another provider. To keep the city of Dunwoody from pulling out, AMR agreed to new standards of service late last year, which they have struggled to meet.
The 6-1 vote Tuesday extends the county's contract with AMR through the end of September. Commisioner Nancy Jester, whose district includes Dunwoody, was the sole "no" vote. DeKalb had previously extended the contract from January through June.
Under the agreement with AMR, patients pay $1,725 for the "advanced life support" calls, and $1,453 for the less serious calls. For each mile residents ride in an ambulance, they are charged $29.50.
PREVIOUS COVERAGE:
Last November, DeKalb entered an agreement with Dunwoody, committing to nine-minute response times for ambulance services on 90% of all "advanced life support" calls, which are critical calls that usually require paramedics. In May, AMR answered 90% of those calls within 13 minutes, 21 seconds. For "basic life support" calls, which are less urgent, AMR took about 18 minutes or less.
The numbers, released by the Dunwoody Police Department, suggest AMR has not met the 9-minute response time requirements since January.
"It's about accountability to the contract. The county's not holding AMR accountable," said Terry Nall, a Dunwoody councilman who has spoken out in the past about AMR's record.
But Nall added that "it's not just about Dunwoody." Data from the first three months of this year shows that nearly every other part of DeKalb County saw even longer ambulance response times than Dunwoody. 
In the first three months of this year, crews responded to more than 15,000 "advanced life support" incidents in DeKalb. No other DeKalb city has entered into a specialized agreement with DeKalb over AMR response times.
Despite the time it takes for an ambulance to arrive on scene, the county said overall it can sufficiently respond to emergency calls, in part because its fire department also responds to emergencies, usually faster than ambulances. All firefighters are also trained as emergency medical technicians, and 14% are licensed paramedics. When firetruck arrivals are factored in, the response times in Dunwoody are faster: about nine minutes or less for 90% of critical calls.
"The most critical point of response times is how quickly first responders can initiate lifesaving care and stabilize patients," the county said in a statement. "While ambulance response time in isolation may be relevant, DeKalb County's "First-on-the-Scene Model of Care" is a dual emergency response system that prioritizes providing immediate lifesaving care."
But Nall pointed out that Dunwoody's agreement focuses on ambulance responses.
"This is not about DeKalb County fire services, this is about the ambulance response service," said Nall, who is running for Dunwoody mayor this year. "The county is trying to deflect away from the real issue."
MORE DEKALB NEWS:
In March, the county announced it was looking to rebid its ambulance contract to one or more companies. As questions about AMR's service linger, the provider is one of the companies that submitted a proposal for the future contract. An evaluation committee is currently reviewing the proposals. Fire department officials said Tuesday the committee would wrap up its work by the end of the June, and the commission could vote on the contract next month.
Jester said she has grown frustrated with the months-long proposal process, "given some of the issues that we've had."
"I don't have an issue with the fire service, but the procurement process has been very slow in this," she said during the meeting.
AMR did not respond to a request for comment for this story, but has previously pointed to Dunwoody's 911 call service Chatcomm as a reason why response times may seem long. Dunwoody and several other Northside cities use Chatcomm to receive and process 911 calls.
Over the last several months, one Dunwoody family has essentially become the face of the push for an improved ambulance provider. Terry and Shanna Tolbert have called 911 multiple times since 2015 because their 4-year-old daughter, Ireland, is epileptic and has prolonged seizures.
"Historically, her seizures do not stop until she's lying on a trauma table at the hospital," Shanna Tolbert told Channel 2 Action News.
On June 4, the Tolberts called 911 after Ireland had a seizure. Shanna Tolbert said it took 15 minutes for an ambulance to respond. In a statement to Channel 2, AMR said once it received the call, its crews responded in about nine minutes.
"Since we are not the call center, AMR cannot speak to how this particular call was received and routed," the statement said.
———
©2019 The Atlanta Journal-Constitution (Atlanta, Ga.)
McClatchy-Tribune News Service