Frequent 911 callers scrutinized amid Chicago ambulance shortage
The Chicago Fire Department said frequent 911 callers contribute to long response times as the mayor pledged to add more ambulances
---
By Laura French
CHICAGO — Frequent 911 callers are being scrutinized after Chicago Mayor Lori Lightfoot pledged to address the city's ambulance shortage last month.
Long response times in the city have been spotlighted following the death of a woman who bled out while waiting for an ambulance in October, CBS 2 reported.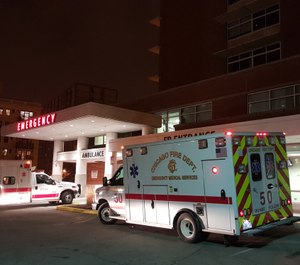 Tina Williams' family called 911 five times after she began bleeding from an IV port site after dialysis treatments, and a Chicago Fire Department ambulance arrived in eight minutes, two minutes below the city's goal as reported to the Illinois Department of Public Health.
In another case, a woman called 911 three times to report her mother may be having a stroke, and an ambulance took 30 minutes to arrive.
"We know we need more ambulances, and it's my expectation when we finalize a new fire contract, there will be more ambulances coming online," the mayor said at a news conference in December.
The fire department said people who regularly call 911 for non-emergencies are partly to blame for response time problems.
CBS 2 interviewed one woman who has called for emergency services hundreds of times, prompting fire trucks to respond to her home 133 times and ambulances to respond 204 times over the last 18 months.
Marisa Diaz, who became a paraplegic after a motorcycle accident, said she calls frequently because of difficulties from being paralyzed.
Paramedic Field Chief Patrick Fitzmaurice said an outreach program to help frequent callers like Diaz rely less on emergency services could be a solution, pointing to a program in neighboring Rockford that has decreased 911 calls by 42%.
"Little Rockford – and big Chicago can't do it," Fitzmaurice said. "Everybody's expanding the program that we haven't started."
CBS 2 also found that in 2019, the city only collected $45 million out of the $264 million billed in ambulance fees, or just 17% of the potential revenue.
"Part of that budget fix is the money that EMS makes; the revenue that we generate," Fitzmaurice said. "More ambulances is an investment that will pay off."